"As I work for a company and not my own label yet-my work is split into different brands -like if you see a embroidered bag at Zara which says made in India there could be 60-70% chance that we had something to do with it"
Ann Lotha has taken her dream and passion and made it into a reality through her hard work and dedication towards the work. She is a designer for famous companies like Zara and Mango, and we had a small one-on-one with her to talk about how she reached where she is today. Read the full interview below.
Introduce us to your work. What got you started?
I'm a product designer who specializes in all sorts of hand-embroidered techniques like hand-beaded embroidery, handloom weaving, crochet, macrame, machine embroidery, and so on.
I design and work on products for bags, soft home products pillows /throws, hair accessories for multinational companies like Zara, Mango, etc. When I started my first job, after graduating, I had no clue about embroidery or anything machine-related projects but started off slowly by being an Assistant and observing for a good one year.
Slowly, I started taking up small projects building my experience, and started attending meetings in Spain/London for many multinational companies for design meetings. I started sourcing materials internationally for new ideas and products. I've been working at the same place now for 6 years and I'm proud to say now I specialize in all types of embroidered products whether it's hand embroidery, machine embroidery, weaving handloom with strong knowledge and hands-on experience of the product.
What initially sparked your interest in this field?
I did my Bachelor's in English literature from Hyderabad. I always knew I wanted to do something creative but I just couldn't wrap my head around it/ But my mum wanted me to finish a regular degree before I took up something in the creative filed. So we made a deal, that as soon as I finished college I could pick a course of my choice if that's what I still wanted! Every college event I would immediately participate in anything creative and would win the first prize, whether it was face painting, acting, or storytelling.  As I promised, I finished my end of the bargain of finishing my 3 years degree and I still wanted to do something creative, fun, and make a career out of something I enjoyed. So finally I did my Master's degree in design and here I am!
How have your roots influenced your work or working style?
Being a Naga, my work was really influenced by all the strong, independent and talented ladies who make beautiful intricate shawls, mekhalas and woven baskets and more.
Every year, as I would go home to Dimapur, I would spend hours gazing at my neighbors making the most beautiful handloom shawls and mekhalas with such bright colours-RED BLACK WHITE, or knitted sweaters for selling or just made for the family. I would always interrupt them and ask them to teach me the basics.. they were so kind and patient with me I must say. Naga designs are so simple but yet rich and elegant. Each symbol like a rooster, a tiger, a spear has a story to tell. Each tribe has a unique design and color combination, would love to study deeper behind it and make a beautiful collection.
2017 natural cane woven baskets were in great demand all over Europe- they were popular for beach bags- luckily I had the advantage to know a bit more of the pros and cons of how/where to make it than any of my coworkers as I saw it almost every day of my life back home. I felt so proud to see so many popular brands wanting our organic baskets..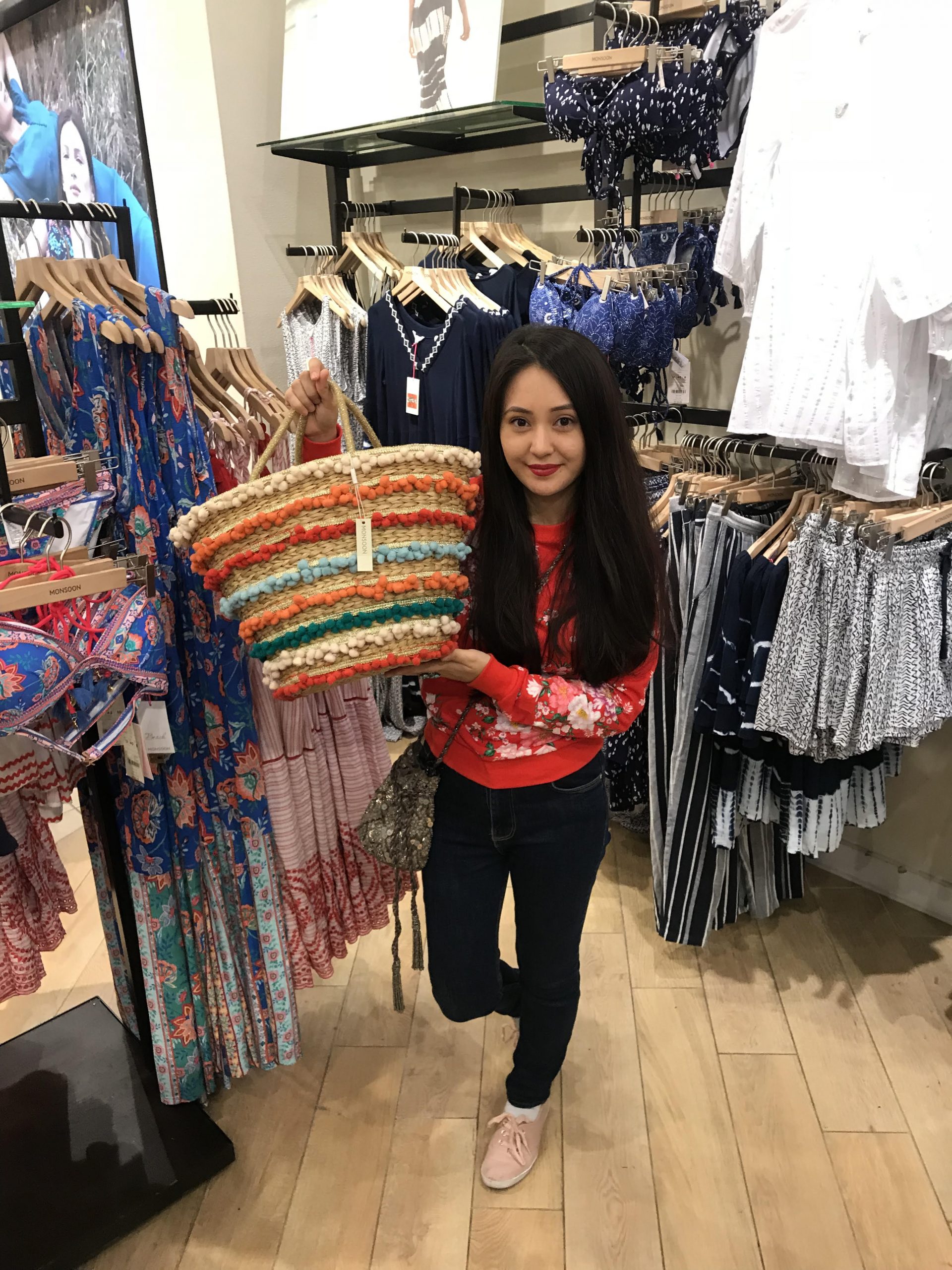 "I hope that I will be able to combine all this traditional Naga ethnicity and these old techniques and blend it with a fusion of all the other current techniques. I have learned over the course of time and start something of my very own one day which will stand out and go beyond from the rest of the commercial products- But for right now- I'm happily soaking up as much experience as I can get before I start anything."
What do you do full-time? If part-time, how do you manage to indulge in your hobby?
I am lucky to be able to work and travel at the same time, as my company sends us to various places inside and outside India to source different techniques and get different inspirations and ideas for the upcoming products to design.
What's your creative/Work philosophy – where do you take inspiration from?
As I mentioned above, my inspiration comes from my roots, my work, travels and every place I visit or am surrounded with. Every time I go somewhere, I look at every little details in a microscopic way:as attention for details is very important to finish a product- to give that WOWZA factor to it. Every time I make a product I want my clients first thought to be "I MUST HAVE IT' without thinking twice- that's a job well done for me. to stand out and even little details like my taxi driver's little charms dangling on the front window I can get inspiration from.
What do you hope people take away from your Art?
My dads family was into tourism, hotels- I broke the chain and became a designer and all my mum and dad talk about with me is design now, they even pitch in suggestions which melts my heart to have so much love and support!.
I hope that every young/old person can feel that it is never to late to start doing what they love,Of course, it can be scary and intimidating starting from the scratch especially if you have no sort of similar background knowledge to back you up or to see people a few steps ahead of the game! Life is working progress You have to start somewhere- so start with giving yourself more credit, don't sell yourself short.
Believe in yourself and leave your negative thoughts at the door. Be positive; BE confident! My ONE AND ONLY advise is- Nothing is handed for free and there are no short cuts. HARD WORK, discipline – and focus is a great recipe for a great strong foundation.
For more on Ann Lotha, make sure to follow her Instagram
Latest posts by Nara Longkumer
(see all)