In a city as busy as Delhi, it's almost a boon when you find a quiet spot for yourself! One such place is the Guftagu Cafe, situated in Gurgaon. A cosy little nook for Delhiites, this poetry cafe is a true haven for people looking to unwind with prose, poetry and expression arts.

We caught up with the owners of the cafe, Kirtika Wasson and Vikas Sharma, for a quick chat about the place and how they came up with it. Guftagu cafe is one-of-its-kind and has also been awarded 'The Best Instagrammable Cafe of Delhi NCR'! Read on to know more about their vision and the cafe. 
Give us a brief introduction to the main faces behind this intriguing concept cafe!
Kritika Wasson –  Hello! I'm the founder and face of Guftagu cafe. After my masters, I entered my professional life in the media. I have worked with quite a few business magazines and curated events which helped me cross paths with a lot of influential people. Now, trying to be a budding hotelier, the skills and connections I fostered aided and gave me the confidence to begin Guftgu cafe. I have always been a believer of the law of attraction, what's on your mind constantly, is what eventually comes your way. But the fact that it happened so soon is what I'm so grateful for. I was also so happy to have been one of COWE's 100 Womennovator in 2018 for my dreamchild.
Vikas Sharma- Hi! I'm a man of many facets. But a good description would be, being a serial entrepreneur and investor. I had decided to pursue an MBA a while ago but all the things I did on the side with start-ups coincidentally created a better synergy with my goals and vision. Today I have become a specialist in being able to grow businesses and I have been mentoring quite a few of them as well. When Kritika came to me about the opportunity of opening up this themed cafe, I was a little hesitant because this would be my first venture into the hospitality industry, but the message and goal was so strong that my passion was ignited to truly work towards it. 
Tell us a little bit about your cafe!
Vikas – Guftagu Cafe began in the name. There were thousands of cafes and restaurants in Delhi NCR, but we wanted to do something unique to break through all the clutter. From day one we knew that we wanted to stand out by being India's first cafe to focus on the rich culture of shayari (poetry). We established ourselves as a patron of the arts, a poetry cafe – Guftagu cafe. It was a definite risk for us to work on this concept in 2018, where the youth is usually more attracted to places with loud music and a good party, especially in our area. 
But we worked really hard and built the cafe up around our name 'Guftagu' – conversation! We want to acknowledge how technology has been deterring us from more wholesome things. We decided to work with the space to go with our theme and chose a more natural and green ambience where people can come to feel relaxed. 
We were very happy to receive support and love from many locals and also many influential people who believed in our concept, from RJ's to Celebrities to Cricketers. We launched our cafe in early November 2018.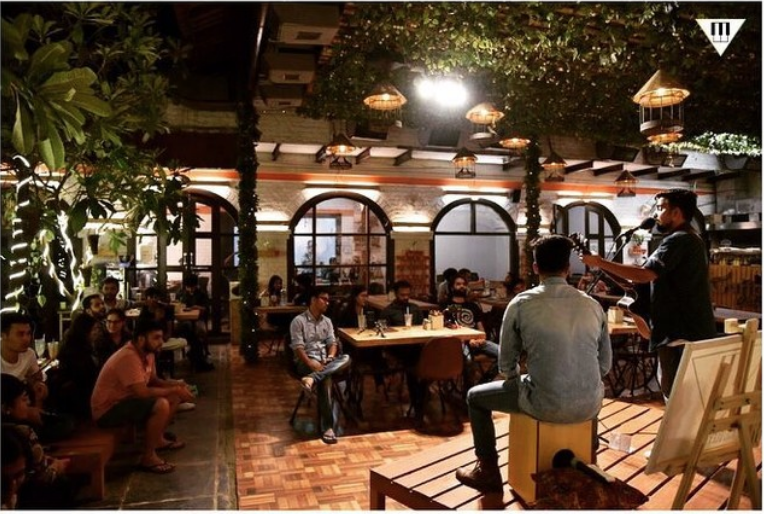 What was the inspiration behind the name and concept of the cafe?
Kritika – I love going to new places and restaurants. I started to observe that even when people try to spend time together, they don't talk to each other, they listen to music or are on the phone. Be it family lunches, dinner with friends or even on dates. Lack of communication and connection has become a problem.
Our initial thought of opening this cafe was to find a way to bring back the culture of spending quality time with each other without having any distractions (phones, loud music,etc) – we wanted to keep it personal. We also wanted to strengthen their communications skills, we encouraged people to come and share with us – in the form of poetry, comedy, storytelling or singing. This beautiful concept worked very well! We supported amateur poets who come to our open mics and also helped them further learn poetry with events and workshops. All this influenced our tagline as well – Khaane Ka Khazana Aur Shayari Ka Thikana. 
How is your cafe different from the rest in the city?
Vikas – Our cafe courtyard theme is what I believe to be an interesting addition! The interior setting of this café is spacious, cosy, quirky and chic. We even have dangling lights under a bamboo ceiling which makes the perfect aura for Shayari. This poetry café is a true haven for a niche audience looking to unwind with prose, poetry and expression arts. We have been awarded 'The Best Instagrammable Cafe of Delhi NCR' and 'The Best Place to Take Your Bae Out for a Romantic Dates in an economical Budget' that also might give you an idea of our atmosphere! 
Guftagu Cafe in collaboration with an NGO, Our Voix, to support the cause of more meaningful conversation.
Tell us how your roots have influenced you to pursue this kind of cafe?
Kritika – In a busy locale like Delhi NCR, it is almost impossible to find a quiet place to fulfil and inspire you. My personality has always steered me to find places like these. This cafe has been my dream for so long and when I met Vikas and saw how well we worked together, the plan was set in motion!
Guftagu cafe is our place of happiness. We sit in our courtyard and listen to these beautiful people from every walk of life express themselves to their heart's content. They are heard here and their talents are appreciated and supported (even the newbies). Everyone who comes here becomes a part of a community.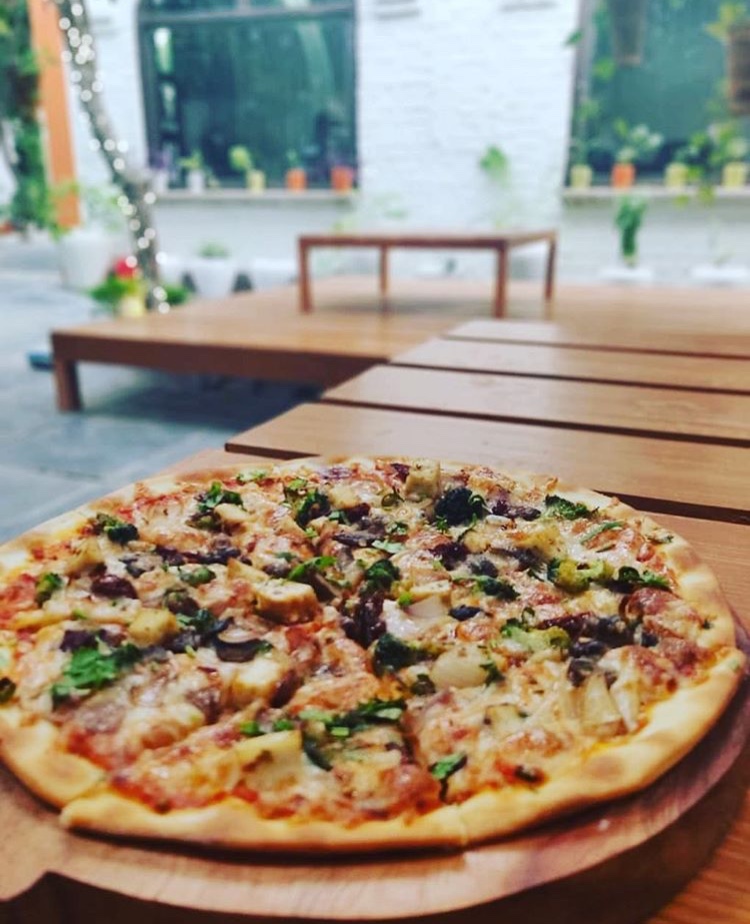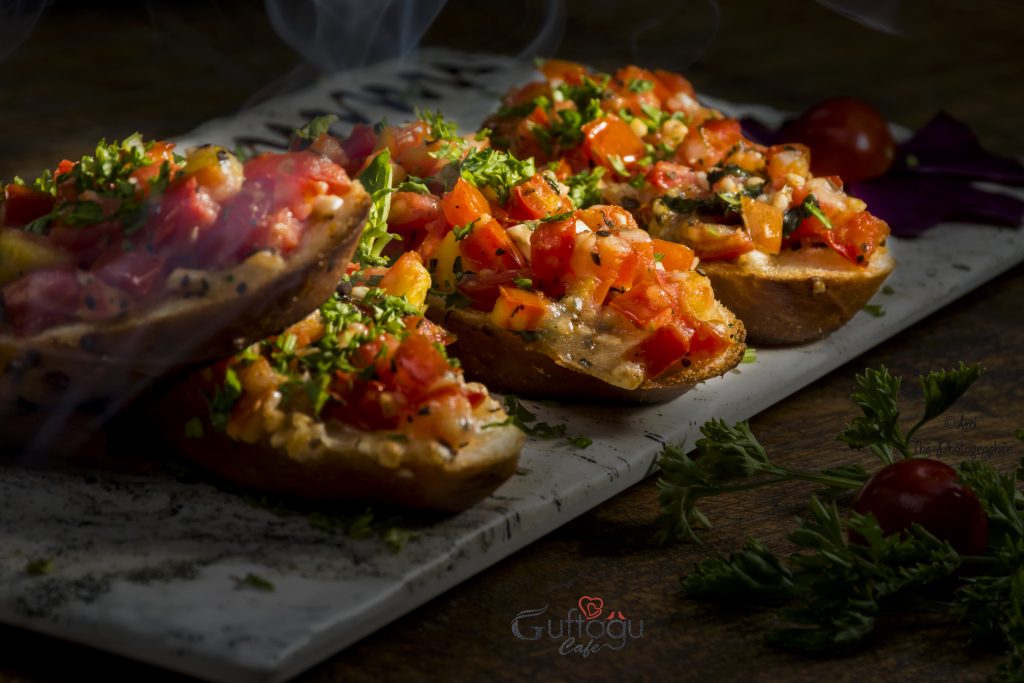 What type of food and drinks can we indulge in?
Vikas – Guftagu Cafe is an all-cuisine restaurant! But we do specialise in Italian Cuisine. My personal recommendations are the Oreo Mud Shake, Mango and Cheesecake Shake, and Alfredo Pasta with a plate of Chicken Fingers.

Tell us a little more about your artist curation process!
Vikas – Poetry happens every week at Guftagu cafe, apart from curating our own special events called 'Shaam-E-Guftagu' and 'Humdard Hain Hum'.  We did not do it all on our own instead we fostered personal connections with some influential creatives and hosted workshops and encouraged their participation to help more of our amateurs feel brave. But eventually, we saw our community growing with freer and more creatively inclined people. 
Do you have any exciting future projects you are working on?
Vikas – Because of all the love and support we received, we were able to start working on our expansion! We will be coming up with two more cafes which will be company-owned and at the same time, we will be entertaining a couple of franchises as well! We are immensely grateful that we were able to create something special and give back to our community. 
If you in or around Gurgaon, don't forget to head to this cosy little place for a wonderful time! Follow them on Instagram to be in on their exclusive updates!
Travelling the world and deciphering cultures as a hobby. Absorbing stories with a warm cup of tea!