Today we share the recipe of one of our favorite snacks. It's a popular afternoon tea time snack, made of sticky rice. It's like roti / puri with a grainy texture but at the same time very soft and chewy.
Ingredients:
Sticky Rice Flour – 2 Cups (measuring cup used, 1 cup = 250 ml)
Sugar – 3 Teaspoon
Salt – 1/2 Teaspoon
Water – As required
Pinch Of Baking Soda
Cooking oil for deep frying
Directions:
Mix the sticky rice flour, salt, baking soda and sugar in a bowl and mix well.
Now, add water – 2-3 tablespoons at a time and knead well to form a dough. The dough should not be soft but a little stiff and tight.
Divide the dough into small palm-sized rolls, and then flatten into small circles.(Make sure the thickness is medium, else it won't puff up).
Heat oil in a deep frying pan. when the oil is sufficiently hot, add one at a time and fry gently turn over when puffed up. Fry till golden brown.
Serve with tea or coffee.
Thanks to Miss Moakala, for sharing the recipe with us. You can visit her site for more recipes!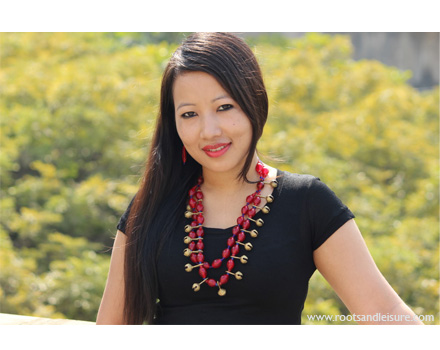 Latest posts by Roots & Leisure
(see all)