"If baking is any labor at all, it's a labor of love. A love that gets passed from generation to generation." – Regina Brett

Our team at R&L reached out to a bunch of bakers across Northeast India in an attempt to explore the variety of bakers out here. We met some of the most talented bakers from the region – from seasoned bakers to newbies, including a spirited 13-year-old from Arunachal!

Each of them shared their favorite baking themes along with a showcase of their creations. Read on to meet this talented bunch and explore their portfolio of bakes & cakes – ranging from abstract to imitation to floral, and more. 
Atele Sarah, 27, Baker behind ' Baked With Love' from Nagaland
" I have been baking since 2019. I love anything floral, hence that would be my favorite baking theme. I also like creating designs that are elegant and dainty.

I am not a trained baker but I am inspired by a wonderful community of talented bakers. Whenever I have a minute to spare, I spend hours browsing blogs and recipe books to get inspired and fuel my creativity. But I also use a lot of these resources to improve my baking skills.  Youtube tutorials are great for that!"~ Atele Sarah, Nagaland
"I highly recommend checking out these fantastic blogs that constantly provide amazing baking inspiration:
Yuhua Eva wang 
Preppy Kitchen 
The topless baker 
Eat cake be merry 
Lulukayla cupcakes"
Floral Birthday Cake by Atele Sarah, Kohima, Nagaland
Floral Cupcakes by Atele Sarah, Kohima, Nagaland
Sinnong Tikhak, 13-year-old baker from Miao, Arunachal Pradesh.
"I have been baking since 2018, when I was 11 years old. I like cooking for my guest according to their taste preferences. I learned the basics from my mother who is a wonderful cook and baker. And I learned a lot more from YouTube

The good thing about knowing how to bake and cook would be the ability to make it for your loved ones without the help of others. The cons of being a baker would be patience for me. You need a lot of patience while baking. Also, I am a little lazy to clean up the mess after I bake 😛" ~ Sinnong Tikhak, Arunachal
Apple Pie by Sinnong Tikhak, Arunachal
Aprile Medo, 34, Baker behind 'Mello Bake' from Dimapur, Nagaland
"At the age of 5, I started experimenting with recipes like sandwiches and homemade jams and sold that to my friends and families. I started my baking profession in mid-2015. Initially, it wasn't as easy, as I had no formal training. I had to learn everything from scratch on my own. I learned it the hard way deriving ideas from the internet and self experimenting. Cake designing was the most challenging phase of my profession as a baker.

The act of baking is a form of my self-expression and serves as my creative outlet. I like to view my cakes as my canvas where I can play around with my creativity and paint my ideas. We bakers just like artists and musicians experience joy when creating something new. I am drawn towards the beauty of nature and find myself using more nature themes in my baking designs." ~ Aprile Medo, Nagaland
Floral themed cake by Aprile Medo, Nagaland
Nicky Imchen, 41, Baker behind 'Nicky Imchen Bakes', Nagaland
"I started baking in my teens but professionally since 2014. I mainly do dessert cakes and tea-time treats.

'Nicky Imchen Bakes' is a very small scale enterprise based out of Kohima; I'm operating right out of my kitchen and I'm very happy to keep it small and not too commercialized to preserve the homemade flavor. I try to keep my products minimal in presentation without compromising on the taste and quality." ~Nicky Imchen, Nagaland
Lemon Tartlets by 'Nicky Imchen Bakes' Kohima, Nagaland
Dipshikha Deka, 26, Baker behind 'DDs Make n Bake', Assam
"I am from Bongaigaon, Assam, and I have been baking since 2019. My baking journey was mostly inspired by the very famous show called "Cake Boss."

Ever since I watched that show, I had an instant urge to try out baking; that, coupled with the encouragement from my family and friends, I eventually got the courage to start baking in a professional way. I derive a lot of inspiration from flowers – with the variety of colors and design they offer. So I like to work with fresh flowers." ~Dipshikha Deka, Assam
Floral themed cake by Dipshikha Deka, Assam
"I loved to bake ever since I was a kid. I have plenty of childhood memories revolving around baking and learning to bake.  I have been baking professionally for at least 5 -6 years now.

I enjoy taking orders which are artistically challenging. However, personally, I prefer a minimalistic approach towards my baking and sourcing ingredients that are locally available." ~ Mhabeni (Evao) Ngullie, Nagaland
Wedding cake by Mhabeni (Evao) Ngullie, Nagaland
Pintu RK, 31, Baker behind 'Creamandfrost', Imphal, Manipur
"I have been baking since 2016, and my baking theme is mostly inspired  by abstract Korean style cakes." ~ Pintu RK, Manipur
Lemon curd cake with wild roses by Pintu RK, Manipur
Lalmuansangi, 30, Baker bahind 'Dainties' Aizawl,Mizoram
"I have been baking since 2014; caked part-time for 3 years. I am from Chhinga Veng, Aizawl Mizoram. I started off as a self-taught baker and ran a home-based business for three years. In 2018, I joined Lavonne Academy of Baking Science and Pastry Arts in Bengaluru. Today, I have a store at MSR Market, Babutlang, Zarkawt in Aizawl.

I love working with fondant because it allows endless possibilities and room for creativity and artistry. The best things about being a professional baker would be customer satisfaction, continuous learning and skill enhancement, and the ability to find pride in one's work after a long day of baking. The challenges would be long working hours and sometimes stress over compliance with customers' expectations." ~Lalmuansangi, Mizoram
Elaborate floral cake by Lalmuansangi, Mizoram
Vini Swu, Baker behind 'Sweet Infusion' Kohima, Nagaland
"I have been baking since 2014. I love working with fondant designs – animals, humans, cartoon characters, flowers, etc. These figurines are made with a lot of attention to detail. I also love making floral-themed cakes made of cream (for those who don't prefer fondant).

I love how my customers get excited even before their cake is made. I use apps like Pinterest, Instagram, YouTube to find inspiration for my cakes." ~Vini Swu, Nagaland
Personalized Birthday Cake by Vini Swu, Nagaland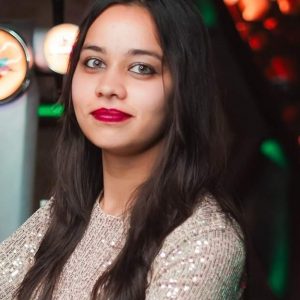 Latest posts by Titiksha Jain
(see all)