Hello there! It's time to set sail on a journey to discover the undiscovered. The "festival of festivals", Hornbill Festival 2016 is set to enthrall visitors from across the globe in the mystical North Eastern state of Nagaland.
About the festival
The Hornbill festival is named after the Hornbill bird, one of the state's most venerated bird species that finds mention in a number of tribal cultural expressions. As one of the largest celebrations of indigenous warrior tribes of Nagaland, it is only fitting that the festival draws its name from Hornbill.
The Hornbill Festival is held at Naga Heritage Village at Kisama near Nagaland's capital city, Kohima. The Nagaland state government organizes the Hornbill festival every year from December 1 – 10. The first festival was held in the year 2000. This year, three other districts in the state : Dimapur, Mokokchung, Phek– will be given the opportunity to host the mega festival this year – so the festival will be spread across multiple districts this time.
The aim of the festival is to revive and protect the rich culture of Nagaland and display its traditions. All of the 17 major tribes of Nagaland take part in the 10-day long festivities showcasing their distinct culture and lifestyle.The long list of festival highlights include the Traditional Naga Morungs Exhibition, arts and crafts sale, food stalls, herbal medicine stalls, flower shows and sales, a cultural medley of songs and dances, fashion shows, a beauty contest, traditional archery, Naga wrestling, indigenous game competitions, and a musical concert.
Main attraction of the festival includes Hornbill National Rock Concert that hits the stage after sundown. Bands from across the country fly down to compete in the concert which is followed by a thriving night market.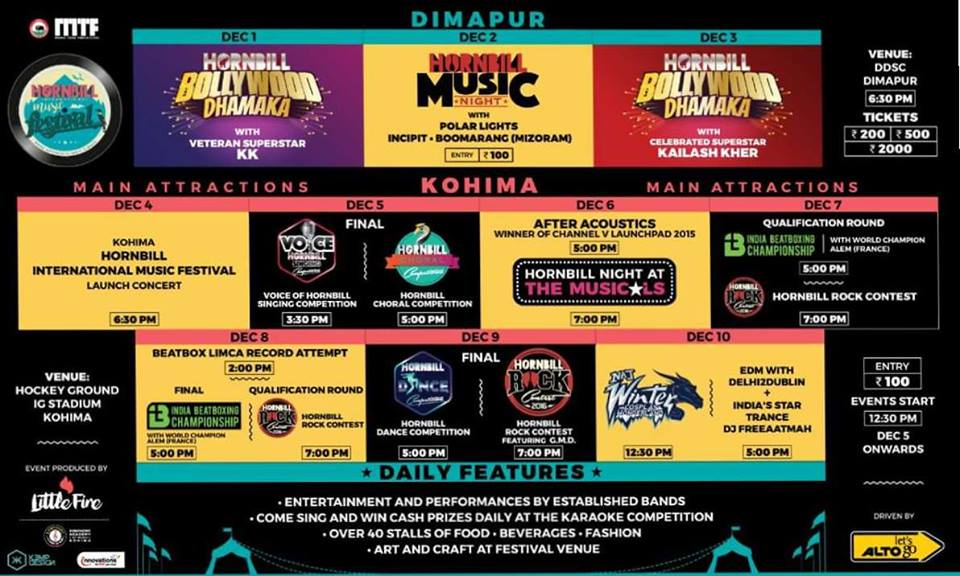 Hornbill's 2016 edition will showcase the launch of Hornbill International Music Festival with much fanfare at DDSC Stadium through Hornbill Bollywood Dhamaka. The event will feature

popular Indian artist KK

on December 1 and

Kailash Kher

on December 3.
Trail Hounds Cycling Club are busy prepping up to host an exciting biking trail event in Mokokchung district. Check out the video
Excited already? IndiaTrail provides all the info and the support to help you get there, and also arranges your stay. Details below:
Nagaland is well-connected to the rest of India by rail, bus and air services. The closest railway station and airport to the Hornbill venue is at Dimapur. Dimapur is approximately 75 kms away from Kohima [~2.5 hours away]. Only two airlines have active flights between Dimapur and its nearest international airport in Kolkata – Air India and Indigo Airlines. Air India offers flight services on all days except Mondays and Fridays while Indigo plies flights on all days. Almost all trains and buses come through Guwahati while some others come through Dibrugarh and Jorhat too.Alternatively, you can fly to Imphal in Manipur which is approximately 5 hours away by road from Kohima. Imphal is well connected to both Kolkata and Guwahati.
Accommodation during the ten days of the Hornbill festival requires some planning. There are home stays that operate during this time. You could either stay in the villages that are near the venue such as Viswema, Kigwema, Phesama and Mima or in Kohima town itself. However, Kisama, the Hornbill venue is approximately 10 – 12 kms away from Kohima . We can help you find a place to stay during the festival days.
India Trail operates its own home stays and guest houses for this festival, most of which are luxury accommodations set in traditional villages. Our establishments are built to provide ample comfort and maximum exposure to traditional Naga life.
In addition to the homestays, this year  – India Trail is putting up tents to accommodate the guests!

BOOK A TENT
Check out the lovely tents below :
Additional Read: Our friend Priyanka Mhatre shares her experience of the Hornbill festival HERE
Latest posts by Roots & Leisure
(see all)