Our reader Priyanka Mhatre from Mumbai, shares her Hornbill festival with Roots and Leisure. 
In December 2014, one of my friends Radhika asked me to join her on a trip to Nagaland. It was a random plan with a fleeting mention about a festival called Hornbill. I always loved impromptu plans, so I agreed to go with this one as well. Luckily, we had a friend from Nagaland, who helped us book our tickets to reach the festival through a convenient route.
With just a week left for the trip, I thought of looking up the web  to learn more about Nagaland and the Hornbill festival. My Google search results threw up pictures that looked amazing. Apparently, the festival was organized in a hilly area where the local tribes participated to showcase their culture and lifestyle. I also came to know that our Prime Minister, Mr. Narendra Modi was scheduled to grace the festival with his presence. This wasn't some obscure festival after all. I was going to be a part of something big! I was excited and looked forward to the trip.
The day was finally here. Hornbill mesmerized us the moment we entered the place. There were people singing on both the sides of the entrance. One's got to accept the fact that people from the North East have amazing musical skills! The music they create has a deep correlation with nature and its sounds. The tribes were creating beautiful music by thumping on the sides of a boat!
We then saw a huge arena where different tribes were performing dances and songs(pictures below). I learned that each performance has a significance, it tells a story. For example, I witnessed one dance performance that narrated the process of building a boat.
As we moved around, we saw different kinds of huts which belonged to different tribes. And every tribe had a club, where youngsters gathered to perform different cultural activities like dances and songs etc. I noticed every hut had different settings which represented the respective tribe's unique lifestyle/beliefs/culture with fire, food, rice brewing among other things.I even noticed a troop dressed in military uniform that represented the earlier war stories. The whole atmosphere was so mesmerizing that it transported us to a different world altogether.
It was shocking to realize that a great festival like Hornbill, which is known as "Festival of Festivals" and draws such a huge crowd annually is not even known to people in the other parts of the country. I myself was guilty to have never known about it until I visited Kisama.
We visited another arena where the organizers were holding a variety of competitions. I was so excited that I just jumped in to take part in one of them. Thank God that I did that because this was one of the best moments in my life. For the uninitiated, let me tell you that Nagaland is home to one of the hottest chili varieties in the world. This beauty is known as Bhut Jolokia. And, lo and behold, the competition that I participated in required participants to eat one whole Bhut Jolokia chili in 30 secs to win. (To give you an idea of Bhut Jolokia's hotness factor, they use one-fourth of the chili to cook 1 Kg of pork). Even the locals were scared to take part in this competition. Obviously, I was petrified initially but then I mustered up some courage and went for it. What followed turned out to be the best highlight of my trip. The winner finished the chilli in 15 secs. People were crying and screaming. It was hot beyond belief. Once it I munched the chili down my throat, it felt like I had gulped down a tiny burning fireball! Anyway, I didn't win the competition but I also have no regrets. I had fun and I'm so glad I participated in this once-in-a-lifetime crazy event.
We decided to stay on at Kisama for three days as one really cannot gather the essence of Hornbill in a day. My friend and I tried different cuisines. One of my friends tried dog meat too, which is a local tribal specialty. Some of the cuisines, like caterpillar fry, were so unique, that it was difficult to believe unless we tried them. Nagaland's love for pork was also evident in all the food stalls.
Something that really amazed me is that people from this side of the country are so humble and down to earth. Respecting other people comes naturally to them. Nagaland is essentially a matriarchal society and it was interesting to note the peculiar differences from the rest of India where patriarchy is a norm. Surprisingly, Hornbill sees a lot more footfalls from  foreigners as compared to Indians. It is sad that despite being an Indian we are unaware of such an ethnically rich, vibrant and colourful place.
You can't ignore the fact that creativity comes naturally to Nagas. I was particulary intrigued by the local arts and crafts that involve raw materials in the form of beads, and palm tree parts (pictures attached).
Some of the art forms even represented Nagaland's recent past when tribe leaders participated in head hunts – where the winner of the fight gets to keep the head of his opponent as a prize. Interestingly, I learned this when I  noticed a wooden carved door with a replica of a man standing with a chopped head in his hand.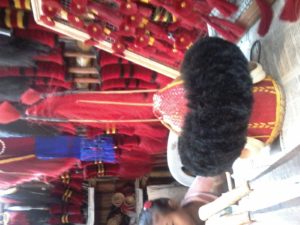 I would definitely go back to witness Hornbill again and urge anyone who's reading this to do the same. It was such an educative trip that made my world view more rich in experience and knowledge.
Planning my trip again soon  🙂
Priyanka Mhatre
Latest posts by Roots & Leisure
(see all)