Praveen Khwairakpam from Manipur is a 23 year old medical student at Sikkim Manipal University. About a year ago, this student-doctor discovered his talent and passion for paper art. He says, "Paper is a beautiful medium to work with. It is delicate and comes in various distinct shades. The most interesting thing about working with it is how versatile it can be – you can fold it, roll it, layer it and let it flow to suit your design!" 
A doctor in the making or an artist? How do you identify yourself? Tell us something about this dual personality you balance. 
It's a bit of both. I grew up in Imphal, Manipur and attended a boarding school in Vijaywada, Andhra Pradesh. That is where I figured my passion for art. It started with painting. Then, I moved to Delhi for my higher secondary education and my passion for painting and art continued there. Then I enrolled at the Sikkim Manipal Student, Gangtok and that is when my curiosity and creativity for paper art started.
So you see, while my academic life never halted or went off-track, my artistic spirit grew and evolved!
So when and how did paper art take over?
DIYs are encouraging and inspiring.While looking for an idea  on pinterest for a friend's birthday gift last year, I accidentally stumbled upon a blog called "The Art of Brittney Lee". It was subtle, vibrant and beautiful. Since then, I have experimented with various kinds of papers into shapes using colours to concoct into a perfect harmony of a body of art on paper. 
What inspires you and what are your interests?
"No great artist ever sees things as they really are. If he did, he would cease to be an artist."
-Oscar Wilde.
My head is usually a creative explosion even while I am studying my medical books! Anything and everything to do with Disney is an inspiration (sometimes, an obsession). Then, there's the beautiful magical world of witchcraft and wizardry that J.K. Rowling created with Harry Potter. Things that are to do with the fantasy realm where there is magic and mystical creatures like mermaids, dragons and unicorns inspire me (after all, I am a Pisces and I can't help it…haha!).
Occasionally, I also indulge in art inspired by popular cultures and fandoms like Game of Thrones, Lady Gaga,etc.
Oh! There are many but two paper artists that inspire me immensely are Brittney Lee and Nathanna Erica. Other artists that I look up to are Steven Thompson, Liana Hee and Lorelay Bove.
Watch Praveen in action!
What do you want to achieve through your art?
As of now, I do it simply for the love of getting to see the idea that is there in my head materialise and take form on paper. The process is extremely laborious but enjoyable and the results very satisfying.
But as an artist, I strive for growth. If my style, as a whole can reach out to as many people as possible and inspire them. I would be extremely delighted.
How do you share your art? Is it available for sale?
I share my art mostly on Instagram and Facebook. Recently, I have also signed up on Tumblr.  And yes, I do sell and gift my works too. However, I limit it within Sikkim as of now. Soon, I plan on expanding it so that it reaches a wider and larger group of people.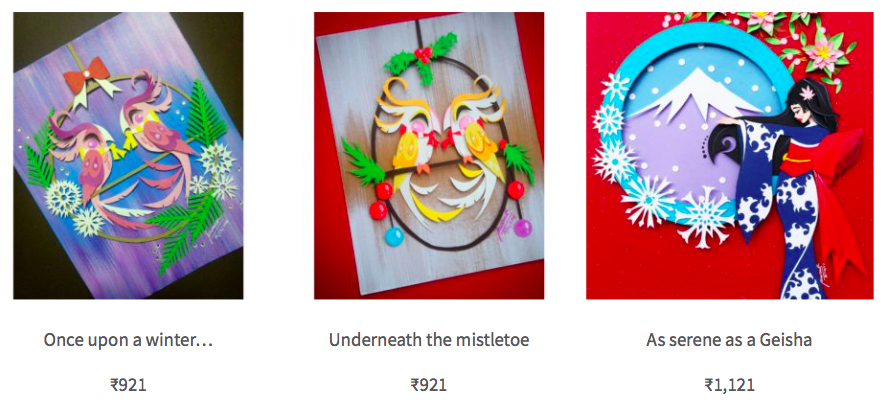 Follow Praveen's amazing craft photos and videos on his

Facebook

and

Instagram

!
Latest posts by Shiori Chan
(see all)