Shivani Rai from Darjeeling, West Bengal is a fabric artist who sews, swoons, and sells personalised artwork online, making sure that she weaves quality into her products, giving her customers the satisfaction of creating exclusive and unique gifts.
Are you one of those people who find it hard to buy the perfect gift for someone else? Or, are you looking for quirky, customised artefacts to personalise your office bay or that lonely corner in your home? Well, we have a solution for your problems – the adorable Shivani Rai, who weaves charm, insight, and love into all her creations.
At Roots and Leisure, we are forever on the lookout for 'unique'. So, when we had the chance to talk to this amazingly talented artist, we definitely weren't going to pass it up! Read on for the interview below…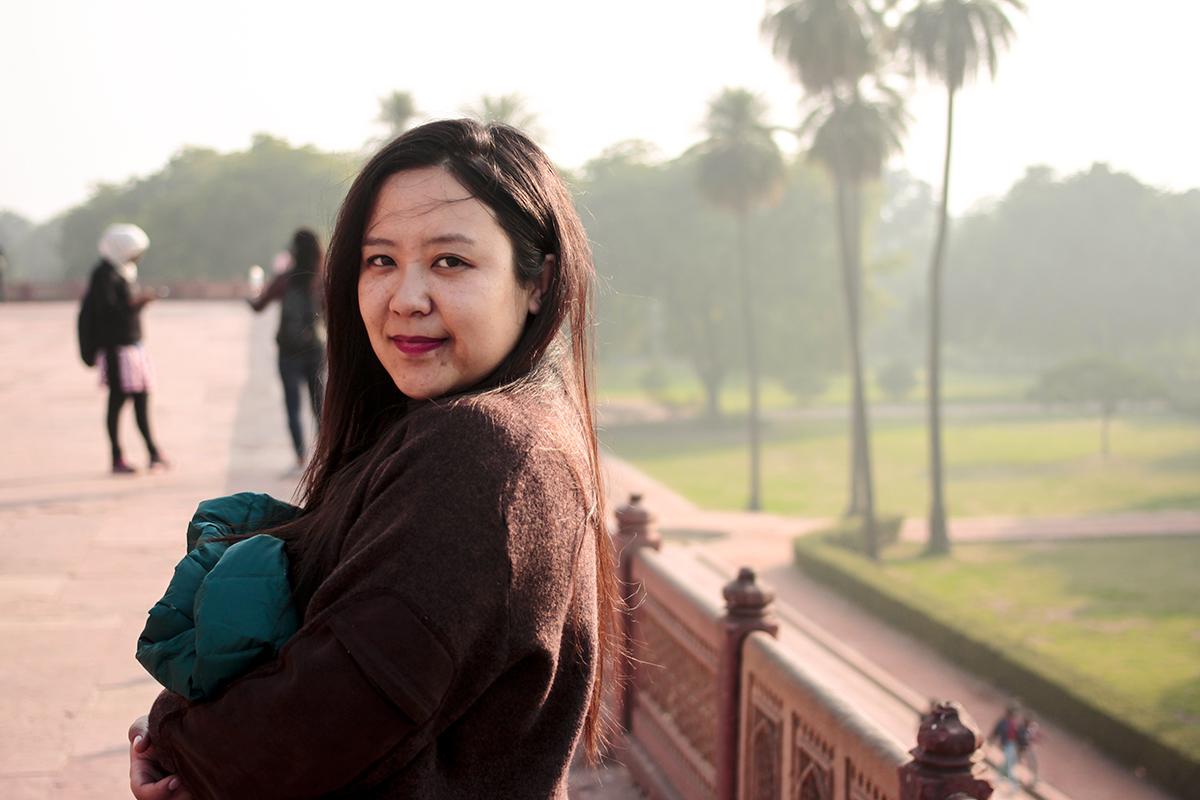 Photo | Shivani
Tell us a little bit about yourself.
My name is Shivani Rai. I'm from Darjeeling, India and am currently based in Delhi. I make fabric art and sell it via my Instagram page – @homegrowntm
Introduce us to your work.
As the name suggests, fabric art is quite literally art that is made of fabrics like cotton, net or felt, either with thread by embroidering or with paint by screen-printing or painting. I have always been a craft enthusiast, undertaking a lot of d.i.y projects and making hand-painted cards or bookmarks for friends. It was only in 2016 that I got a chance to make money by selling the small products that I made at a local fare back home. Since then, I have been posting pictures of products I make on Facebook and Instagram via which people contact me for their orders. I tend to be more active on Instagram as it brings in more traffic and it's easier to interact with customers there. My products include (but are not limited to) embroidery hoops, framed embroidery art, pin badges, iron-on patches, notebooks, yoga mat covers, pouches and tote bags.
What initially sparked your interest in customised fabric art?
I like the idea of deeply personalised gifts and products, which doesn't necessarily mean only having your name on generic things. This means having your personality shown on objects around your home, office and your living space. I guess it's for this reason that I like making personalised and customised things for every customer and this sets my work apart from other folks selling handmade goods. I do want to make a collection of some generic humorous art pieces but currently, I haven't had time to pursue that. So as of now, each of my customers gets a completely unique piece of art.
Is this a full-time job or a hobby?
Since the beginning of 2017, this has been my full-time job. I really enjoy working with my hands and the sense of accomplishment I feel on completing each project so I felt the right thing to do would be to make a living out of it! With the unending love and support of my parents, I am living my dream!
What's your creative/work philosophy – where do you take inspiration from?
Presently this is a solo project. I am the manufacturer, the P.R., the chai maker, the accountant as well as the errand girl running to the courier offices! This means I can take up only a certain number of orders at a time even though I wish I could work on all of them. So though it's difficult to turn away orders, I try to focus on quality more than quantity; I think my customers appreciate this as well.
As for creative inspiration, I think I'm blessed to have received my mum's creative genes. She got me into contemporary embroidery at a young age and we've enjoyed taking up many projects together. I love browsing through Instagram and Pinterest too as they are full of emerging fabric artists who struggle with similar issues so it's easy to relate to and find solutions as well. Some of my favourite embroidery artists on Instagram are @defnegunturkun and @boyhardie.
Can you single out an item from your work which you are particularly proud of?
It's very difficult to single out an item from my work as a favourite, especially because my product line is ever growing. When customers ask me to make something that isn't included in my product list, I usually don't say no. I feel it's a good challenge to tread on unfamiliar grounds as it teaches me something new; But gun-to-my-head, I'd say I really enjoy making embroidery hoops and notebooks – still cannot choose a favourite, though!
Tell us about your latest work/project/venture.
Well, I spent December-January at home with my mum, so I wasn't working too much. But now I'm back in Delhi and have been taking orders for embroidery hoops (which are my best-sellers). Also hoping to start a collaboration project with my brother who is a tattoo artist and a painter himself.
Besides fabric art, my other passions include writing and photography. I do freelance writing for magazines like Harper's Bazaar Bride and Max Fashion and you can check my photographs on my blog. I also have a small online store on Instamojo via which I sell ready-made pins, badges and pens (not made by me).
You can follow Shivani on Facebook and Instagram. 
Latest posts by Shiori Chan
(see all)