Christmas is a great time to visit Nagaland. It is filled with the joyous spirit of Christmas, Weddings, the excitement of the young folks visiting their hometown for the holidays and many other celebrations – and all of these involve lots of food and merry cooking! Today we have a pork recipe from one of our founders – Sungdi's (outdoor) kitchen; it's a pork recipe that will have you wishing you were there right beside her – to enjoy the cooking process and of course, to taste the delicious-looking dish!
Here's the recipe of a pork dish cooked in a Naga outdoor kitchen with Asian spices for a lovely twist in flavour. Enjoy!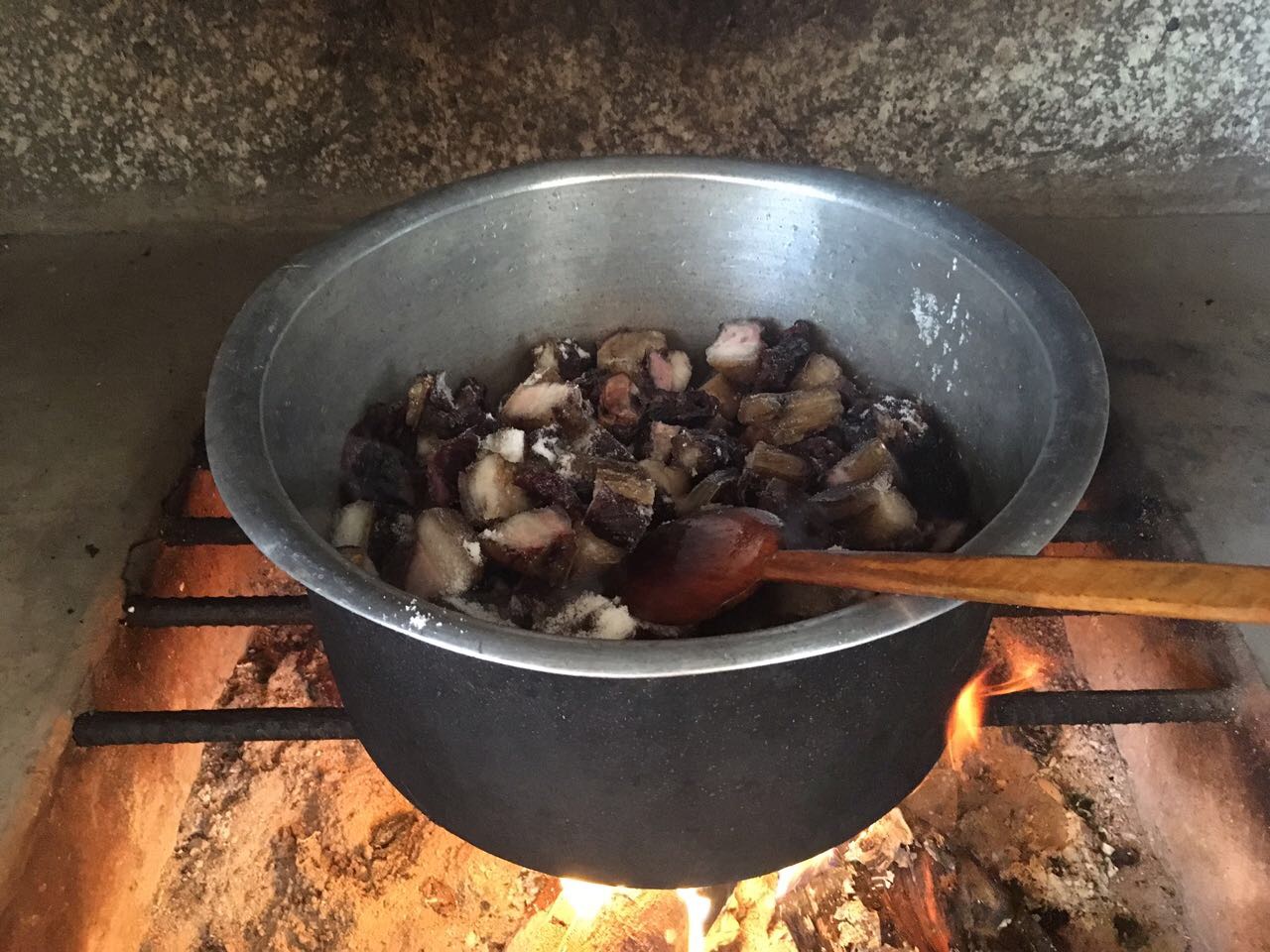 Prep time: 15-20 mins.
Cook time: 1 hour (approx.)
Ingredients:
Smoked pork
Onions
Green chilly
Soya Sauce
Barbecue sauce
Green chilly sauce
Chilly powder
Ginger garlic
Tomato
Capsicum
Directions to cook:
Pre-cook the smoked pork in salt and water. (Water quantity should be just midway to the pork level)
For the sauce: Sauté the tomatoes till it turns soft and brown. Then put in ginger, garlic and soy sauce and the pre-cooked pork stew.
Marinating the pork: Add chilly sauce, chilly powder and barbecue sauce to the pork and leave it to marinate for atleast an hour (or leave it overnight).

Next, place the marinated pork in a dry dish, and leave it to cook till the meat becomes tender (approx. 45 mins. )

Once the marinated part of the pork melts away, put in the sauce and cook for another 5-10 mins.
Just 10 mins. before you take the pork out the fire, put the onions and the capsicums.
Your mouth-watering, delicious smoked pork is now ready to serve!
Watch the video below to view the full cooking process. Hit Like, Share and Subscribe to Roots and Leisure on Youtube for more updates from the local folks!
Latest posts by Roots & Leisure
(see all)