Meet Moanungsang Lemtur from Nagaland –  a talented artist and a graphic designer – working in a design firm in Pune. He's a genius when it comes to all things branding, packaging, logo design – and a lot more! We met him on Twitter (@shinobiSneakIn) a while ago, and have watched him only grow since then. From a kid with artistic talent – to an influencer and a trendsetter in the creative community, we had to know where he gets his inspiration from and where he's headed. 
Hi Moa, so tell us why you call yourself 'Shinobi'? 
"Shinobi" is just a name I picked up many years ago. I got really inspired after watching a documentary about Ninjas on the History Channel. I love the dedication they have for their martial art form, the varieties of weapons they master, their techniques and their craft – all of it. Knowing that they actually existed in our real world got me intrigued.
So, Shinobi is my tribute to their way of life. It's like a self-made alter ego – he encourages me, he challenges me, and he's been helping me move on after making mistakes and learn from them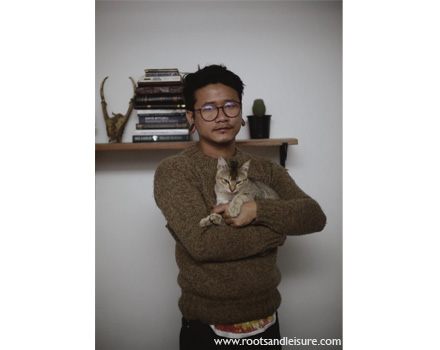 Oh that's really insightful! Now tell us more about your work.
I work full time in a design studio as a graphic designer. My projects vary from branding, packaging to logo designs and anything in between. Apart from that, I've been trying to paint on canvas with oils and acrylics. I really like surreal paintings and would love to mature more as an artist in surrealism.
"I have a massive love for illustrations! Pens and inks and brushes with their raw messy lines and drops of dark inks the white spotless paper. Its such a good feeling to cause that kind of movement on paper and create a piece of art! "
Where can people view your work? Are they also available for sale?
I try to be active over social media: Instagram, Twitter and  FaceBook. I share a lot of my work out there. You can check out my design portfolio on Behance. You can also buy my stuff on Society6 and cupick and on My Roots and Leisure Shop
Feeling inspired already? If you wish to connect with Shinobi for a personal art project, we can help you get in touch with him – and make sure he responds 🙂 Drop a message [HERE], and we will get back to you.
Latest posts by Roots & Leisure
(see all)