The food culture in Sikkim, particularly in Gangtok is moving at an accelerating pace. New food joints have sprung up not only at the main market, M.G Marg but all around the capital town. Gone are the days when Sikkimese people stuck to momo, chow mein and chopsuey for their food outings. The palate has evolved for the food enthusiasts and today, the new restaurants offer a wide range of cuisine from Italian to Korean. Even the Chinese restaurants have broken away from the usual Chilli Chicken and Sweet Corn Soup to Lo Mein, Moo Shu and Mein Fun. One food joint/cafe that stands out for many reasons is the Bibliothèque Cafe at Tharo Line.
Kunzang Chuki Denzongpa, fondly called 'Pamu' by her friends and family is an English Honors Graduate from Delhi University. She hopped from law school into the world of Beckett and Chaucer because her love for literature overpowered her comprehension of the judiciary.
After returning from Delhi in 2015,  she worked as a content editor in a corporate house, thinking that her love for reading and writing would help her find some kind of job satisfaction. After a year behind a desk, she made another jump to a culinary school for a year. Armed with knowledge about reading and cooking,  Pamu decided to blend two of her passions- books and food into one! She decided to open a cafe that served food with flavour and the mind with fantasy.
How did it all begin? Tell us about the genesis of your cafe.
I love books and I love cooking. These are the two things that I shoot off from my mouth like a reflex response whenever anyone asks me what do I like. I completed my college in Delhi and like most people, I returned to find Sikkim, evolving and open to experimental enterprises. Business ventures born purely out of passion were doing well not just commercially but it was drawing a crowd that was dedicated. Whether it was a futsal cafe, racing arcade, coffee houses, they all had their loyal and regular patrons. So I believed I could do the same. With a positive attitude, I opened the cafe on June 1st, 2017.
So does your cafe have a theme? How did the concept in your mind materialise into the cafe?
It definitely doesn't have a particular theme but motifs, yes. There's plenty of them. The cafe is designed like a reading space where one can sprawl, pause, take a look out of the window and enjoy the view of the mountains and the hills. While I tried to make the place look more like a library, it turned out to be more than that. You'd imagine a library or a reading place to be quiet but a cafe can't really run in silence. That doesn't mean the music has to be deafening. Whoever walks in should feel like the cafe is their space to zone out. You want food, I get you food. You want books, take one from the shelves. You want music, I play music. You don't want music, I don't play music.
It was my family and friends who constantly told me that my cooking could easily pass off as a 'restaurant food.' That is what gave me the push. I knew I could cook and I was confident about it. Therefore, I decided to have a cafe where I could do what I loved doing and at the same time, provide a space for people to come eat, relax, read and just be themselves.
What is the meaning of 'BIBLIOTHÈQUE '?
It's an ancient Greek word for library. The walls and spaces around the cafe are filled with books for everyone. We have children's books as well. We see a lot of kids running around in restaurants while parents desperately try to keep them entertained while enjoying a meal. In a place like Bibliothèque, the kids can wander around in the space and take up a book or a toy (there are toy figures from the Harry Potter, Game of Thrones and other series that are placed on the racks). It keeps them entertained and intrigued. They want to know who/what/why. The dining experience turns into a learning experience for the curious kids.
What are the challenges that you have faced and what has motivated you to keep doing what you're doing?
Gangtok is growing in all aspects. One of the biggest challenges was finding a space. The rent is very high in the commercial areas. However, I was lucky enough to find a space at 'Tharo Line' which is a stairway that connects M.G Marg (the main market area) and Lal Bazar (a shopping complex).  A huge number of people walk up and down that route so the space I found was a blessing for business.
My passion is one thing that keeps me driven but it is my aunt, who has helped me mentally and financially, both. No business venture is an easy task, we all know that. My aunt and I have managed to over come every obstacle together and it is her faith in me that makes me believe in myself. The fact that I have someone who is 100% convinced that I can do this gives me the extra confidence that I really can.
What are the best sellers of the cafe and is there anything on the menu that Bibliothèque offers which other cafes in Gangtok don't?
The best sellers are the Ramen, waffles and the peri peri chicken wings. The Ramen is multi-meat and most people here prefer a non-veg item so that really works. Plus it's soup-based and again, soup works well in the hills and mountains, especially during the cold, winter months. Waffles are light and one doesn't necessarily need to be starved to enjoy it. The peri peri chicken wings give the right amount of flavour and spice that suit the palate.
I am not sure if other cafe serves the traditional Thai wrap. The Thai wrap is pretty popular among some customers. I can make veg and non-veg both. Bangers and mash is another dish I haven't seen on the menus of the restaurants around. So may be, those.
Belgian waffles served with seasonal fruits and ice cream.
Breakfast in a pot with non-veg Thai roll.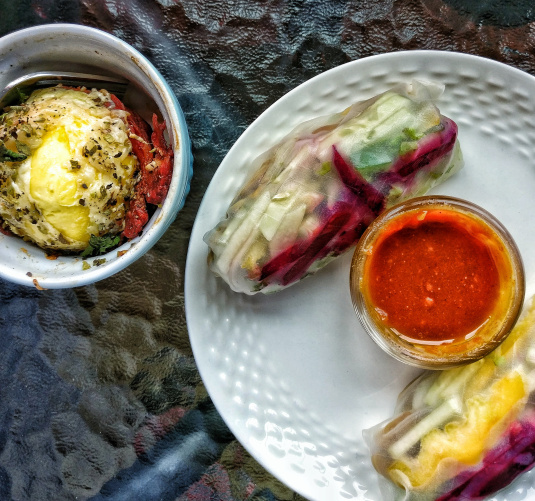 What's in store for you and Bibliothèque in the coming years?
Bibliothèque was actually my retirement plan. I knew that when I retired, I would want a cafe where I could do exactly what I wanted to; but then fate and time is a strange thing. We can never really dictate over the two. With ideas set in motion, I thought why not now? So I got started. Bibliothèque and I will be here in Gangtok for as long as we can be. As long as people come to read and eat, we'll be here! It also depends how and in which direction the venture grows. The future depends on those.
Address: Tharo Line, Gangtok, East Sikkim
Follow Bibliothèque Cafe on

Facebook!
Latest posts by Shiori Chan
(see all)