Devi Chand, from Chennai, works out of her little studio and creates impressive paper-based jewellery. She found a way to roll paper to create interestingly shaped beads and that gave her an idea to further use in accessories. The sealant she uses also works to make the paper splash-proof!

Back in 2009, she started her paper jewellery venture, Papermelon. Even now, she finds joy in collecting all types of paper and upcycles them to make her creations. Just like her, her jewellery is upbeat, happy and colourful. Check out her collection and wear some as a conversation starter. Also, read through our conversation with this cheerful wife, mother and entrepreneur who is living her dream! 
Hello, it's great having this chat with you! Give us a small bio.
Hey! I'm Devi Chand, and I make some exciting sustainable paper jewellery. I create from my little home studio in Chennai. I'm a mother of one, who is also a regular visitor at my quaint shop. 
Tell us about your venture Papermelon.  
I studied design at NIFT. College inspired me to dream, design and make more things. As a side effect, I met my awesome husband here. After graduation, I worked in a design firm. I yawned most of the time there. It only took me nine months to say goodbye to corporate life. I started Papermelon in 2009, and have been happily crafting thereafter. The main ingredient for my jewellery is paper. It might be hard to imagine its transformation into a wearable piece of art but it always makes for great conversation starters.
The story behind the name!
I love watermelon. The colours and simplicity of the fruit. I simply rhymed it with my main ingredient – paper. So we have Papermelon. I liked the way it sounded, it was organic and cheerful at the same time, like my jewellery.
How did you come up with the idea?
When I started out, all I had was an enthusiastic me and a colourful stash of paper, thanks to my design education. During one of my experiments, I made my first paper bead by rolling a paper strip over a toothpick. It looked 'different' from beads I'd seen before. That was the first of the many many hours I spend making paper beads, perfecting the art, and researching to make the beads beautiful and durable. 
Over time, I've fallen in love with working with paper, and the magic it creates. It also gives me immense joy to be a part of the sustainable fashion movement, paper being one of the few truly sustainable and renewable resources.
What is the inspiration behind your designs?
I have these moments of inspiration when all I want to do is snuggle on the sofa and sketch, sketch and sketch ideas. This may sound crazy, but sometimes designs and techniques also come in my dream (they unfold like a YouTube tutorial). The ideas will remain in my notebook until I find the right paper one day, and I usually know when it's a perfect match. Then I get to work on it, make several prototypes before I'm happy with the final outcome. 
What type of products do you create?
I use simple hand tools and cut the paper into strips and meticulously hand-roll them into perfectly shaped beads. I work with papers that have irregular designs and colours, so it's hard to predict the patterns the beads will decide to have. So when they are finished, I'm  just as surprised as anybody else. And I love that suspense.
The paper beads are given a coat of sealant to make the jewellery water-resistant, so they can be cherished forever. The beads will rest on my balcony until they are thoroughly sun-dried. They are then assembled into necklaces, earrings and bracelets in intriguing designs. All ear-wires and necklace clasps are made of recycled sterling silver. 
My jewellery making process is incredibly time-consuming and tedious, however, the final result always makes me smile. I hope it brings you the same joy! 
How long does it take for you to create a piece?
This is a toughie because my jewellery-making process is not a linear one. The process involves several stages like bead making, varnishing, assembling and packing, that it's really tricky to figure out the exact time spent on a particular piece. However, my estimates show that smaller pieces take at least an hour, while larger pieces can take several days to complete.
How has your upbringing influenced your creations?
As a tiny little nose-picking kid, I loved to make things. My favourite things to make were glittery baubles and tiny gift boxes from candy wrappers. I proudly hung them on the Christmas tree, and then it felt like Christmas. My parents were super supportive in my crafty adventures and ignored the mess. I built upon this dream and today I'm doing what I love!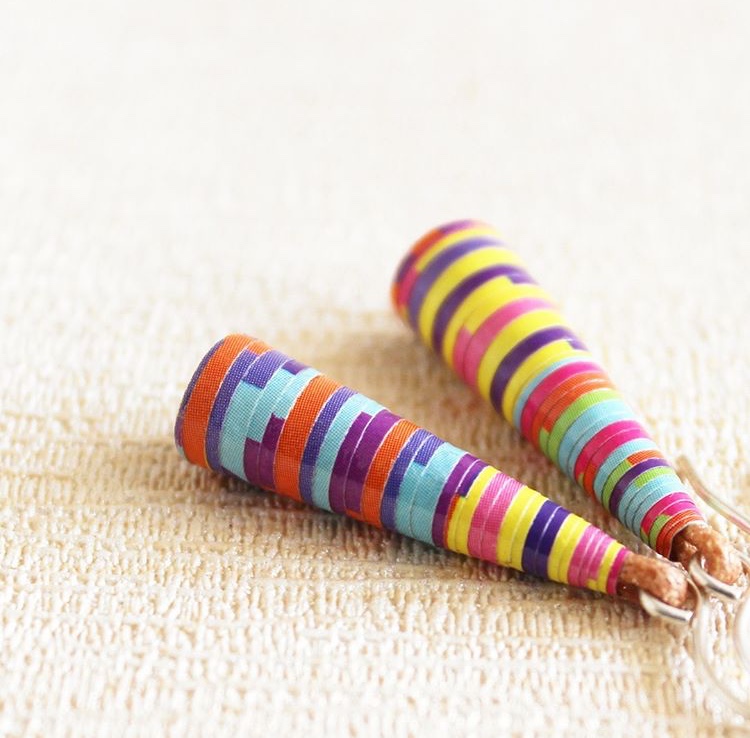 How do you source your material?
I obsessively collect all kinds of papers – newspapers, magazines, calendars, gift wraps, paper bags and pamphlets to name a few. Occasionally, I also buy eco-friendly paper from my local store and during my travels. And most amazingly, I also have a network of friends, neighbours and relatives, who unconditionally passes on the vibrant paper stash they collected for this offbeat jewellery maker.
Our sterling silver findings are made from recycled metals. Our supplier collects scrap silver from jewellers and industries, and copper from old copper wire cables. They then recombine the silver and copper into the sterling silver that we use in our designs.
All supplementary supplies used in our designs – cotton cords, sterling silver findings and glass and wooden beads – are locally sourced supporting small home-run businesses.
Since they are paper, are they durable?
Each piece of Papermelon jewellery is thoughtfully handcrafted with a lot of love, care and attention. Years of research, experimentation and trial and error has enabled us to develop the perfect recipe for creating sustainable paper jewellery, that's durable enough for everyday usage.
The paper beads are thoroughly sun-dried before they are assembled then given a coat of sealant to protect the jewellery. The sealant allows the jewellery to be sturdy and water-resistant, while preserving the natural colour and texture of the paper. With a little love and care, your Papermelon jewellery is sure to last for years to come.
Which is your favourite piece?
The  JUMBO Abacus is my favourite piece so far. This majestic pendant is composed of little paper beads I meticulously handcrafted from upcycled paper in vibrant colours. The beads are free to move about in their wooden rods, just like a real abacus! I really love the mobility of this piece and the playfulness that it brings along.
Thank you for bringing us into your world! We hope to see many more designs in the future. Follow Devi on her Instagram for recent updates.