Dina Weber, hailing from Germany, now lives in south India – Mysore. She is the heart behind a small micro-bakery called SAPA sourdough and pastry. Her love for bread extends to more than the science of baking. It comes from the deep importance her mother placed on fresh food and the culture of pouring love and forming communities while creating food. 
Dona came to India as a learner, traveller and volunteer but she has found her quiet little corner and is living a truly fascinating, life constantly experimenting and evolving in her bake-house. Fresh plums, creamy matcha, edible flowers, artisanal chocolate and single-origin coffee, she tries to keep all her ingredients as pure as possible. Even her sourdough starter is 4 years old personally made in the Himalayas. Dina hosts workshops and provides breads and desserts to cafes and restaurants but if you are in Mysore, pop by for one of her fabulous bake-sales! 
Hello Dina, it's great to have a conversation with you. We were intrigued by your bakery! 
Hi, my name is Dina Weber and I am from north-west Germany. I now live in south India – Mysore, I have a small micro-bakery called SAPA sourdough and pastry. It's quite a winding tale, how I ended up doing this. I believe that if you are going to work in the food industry, you need a very deep connection to food and a passionate approach to it. For me, I definitely have that from my mom. 
The name Sapa is actually the first two initials of the word sourdough and pastry. 
How have your roots influenced your path in life?
My mother valued food over everything and she used to put a lot of her time and effort into making sure that we had freshly cooked food all the time. In Germany, this isn't as common as in India because a lot of people eat out or they order food or they have pre-made packaged food from the supermarket. It was a very conscious choice that my mom made. 
She grew a lot of fruit and vegetables in her garden then processed them in different ways as did my grandmother and aunts. There were berries made into jam, apples made into compote, cucumbers made into pickles – to preserve for the winters. There is a whole culture around food and preparing these preserves as a family. We would also go to a neighbors' gardens and pluck cherries together to make cherry cakes, it's a certain culture that other families around us also lived by.
So this stuck to me and my brothers, food is very important to us. Fresh food that you taste, the real flavour of something and that its made with love. 
Why India? How did you open something of your own here? 
In Germany, after I finished school, I worked as a barista in the summers and traveled in the winters. I loved to travel to Asia and volunteer side by side. I would volunteer in organic farms, permaculture farms, even in schools for food-related reasons. For example, at one of the Krishnamurti inspired boarding schools where I went, I helped with farming and gardening to feed the students. I used to help out in the kitchen to prepare Tamil food for everyone. I also worked on an organic coffee farm for some time.
That connection to the soil and truly understanding how much work it takes to actually grow something was incredible. But I knew it wasn't for me. Even though I am intrigued, I'm not a farmer. I want to make or bake food and focus on the 'after creation' process. After I traveled for a while and met my husband in India, we stopped for a while in Mysore. Here we started a cafe that had a raw vegan concept with a home kitchen feel. We had weekly changing menus which we made work with one black pot and whatever we could muster. This got me baking more!
I baked every day – 3 to 4 loaves – for the sandwiches, soups, and salads. This created a bond, born of experimentation and curiosity. How does fermentation really work? What all can I tweak? If I change the proportions of the variables how does it affect the bread? It's a long process especially if you are self-taught, working in a tropical climate, and with flours that aren't necessarily made for bread baking. 
Tell us about SAPA bakery and your journey from the idea to its launch. 
We took a 2-year break from the home kitchen and traveled for a bit, I also had a daughter but I continued baking bread. I made them for friends and relatives every week. Slowly, more and more people started asking me for bread. There was nowhere else you could get these kinds of breads in Mysore, so I decided to do something about it. I got a space, a bigger oven, a bigger kneading machine, and I hired people. It's been 3 years now. I opened SAPA and host bake sales –  people get their bread twice a week and indulge in buns and pastries.
How and why did you end up choosing to make bread? 
Bread kind of just happened. I was working in a french bakery in Goa as a volunteer, here I met a baker from the UK who wanted to bake some sourdough bread. He made the sourdough starter from scratch for two days and made his dough but needed my help. He asked me if I could take care of the dough in the afternoons, I had to fold it every 45 min. I agreed.
I remember finding the dough very odd – it was really wet and sticky (because it was 100% whole wheat). But in the end, the structure was different. I could see the structure changing, the molecules absorbed the water through the folds and when I put it in the oven, it came out as beautiful fresh bread – I was so amazed. In a way, it's so simple! You are just using flour, water, and salt but its morphosis through the technical knowledge brings about a great feeling.
I got my own culture in the Himalayas, luckily my first solo try was an amazing bread made with barley flour from Ladakh. But, I am not sure how I did it. With no experience and consistency, to get everything right, it took 5-6 more trials to get another nice loaf. It's all very instinctual, your hands respond to the dough, it doesn't rely on regular measurements.

Bread making involves variables like humidity, temperature, mineral content in the water, flour batches, and even your own hand temperature. You can feel the difference in the dough – when different people knead their dough. In that way, you have a very personal relationship with the product. This also makes it so fascinating.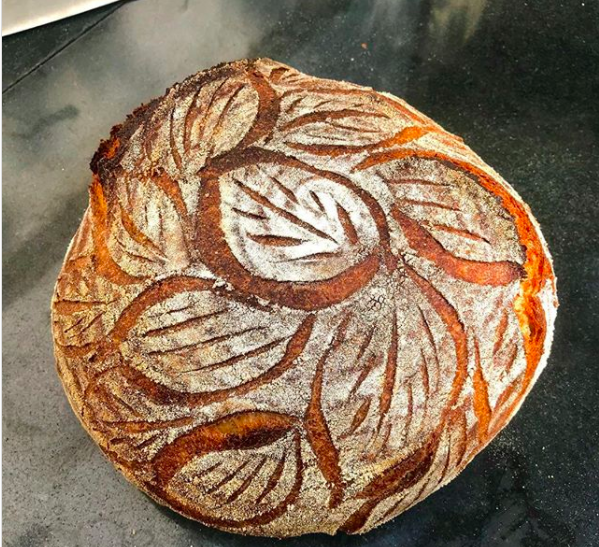 Tell us a little more about your bread-making process. 
Bread starts with a sourdough culture; my culture is 4 years old. I made them myself in the Himalayas. I took them with me to Germany and then brought it back to Mysore. We feed this starter 3 times a day, every day, to make sure its a very active wild yeast. We don't add any other rising agent. 
In the morning, after the first feed, – we feed it organic atta and water. Then we mix our dough which develops our gluten strands. They form a web of tension in the dough to create a strong and elastic dough. This then holds the gas inside making the bread fluffy. 
The fermentation starts after the kneading. We let the bread ferment for 4 hours then we work on shaping our loaves and leave it aside for another 2 hours. Next, we place it in the fridge to continue to rise in the cold temperature for 14 hours. The next morning, they are ready to bake! We put it in the oven and bake it at 250 degrees directly on stone. Therefore the whole process takes about 2 days. 
European breads aren't a popular concept to the general public in India. How have you been trying to get people to try something new?
Because we have a mixed menu with classic french pastries, cinnamon buns, and bread – different people come for different things. There are regular customers who only come for the bread; who are more health-conscious; who generally don't like the local bread; they miss the flavor because they have been to Europe. Other people come for the eclairs. The love how light and delicate french pastries are. Some people, especially with kids, come for the buns. Cinnamon buns and chocolate brioches are easy favorites because it's very easy to give to their kids as a snack. It's not too sweet or unhealthy.
We try to have all the flavor while keeping it as pure and fresh as possible. We use organic chocolate, real vanilla, real almonds, make our own nut pastes and custard with real eggs, and we also make the crunchy topping for our eclairs with brown sugar. It is all made from scratch. People value this because they can taste the difference. 
What are the advantages and disadvantages of being in Mysore?
It's always trickier in smaller cities in India because people might not be so adventurous with their food. They like to eat more of what they are used to, so you have to find that sweet spot, where it might be a little bit new but they will still feel comfortable giving it a go. Usually, this happens with the sweet pastries and the lighter bread. Dense heavy German breads are not for everyone – so we try to adjust.Supply in a small city like Mysore also can be challenging. You don't get exotic berries, like raspberries and blueberries, that you get in bigger cities. But we use ingredients we can get here and I bring a few things myself from Bangalore. 
But all in all, Mysore's quality of living is better! We have our own gardens in the backyard, the air is cleaner, the traffic is almost non-existent – I can quickly pop over to someplace and get back right away and much more. 
What are your plans for the future?
Currently, I'm on a mission to learn more about croissants and puff pastries. Basically, it's a never-ending learning process and various types of things you can try your hand at and continue to perfect. Soon, we are opening a cafe where people can come and sit, eat a sandwich or a piece of quiche and enjoy a lovely cup of coffee.
In Germany, I was very lucky to work in a really great cafe and bar. I was around a great team – they showed me how teamwork is meant to be – supportive, harmonious, and loyal –  it is my goal to create this environment here and grow together.
We are excited to hear more of your bakery in the future! To keep up with Dina follow her on Instagram.