With the country opening up one unlock at a time, two things come to mind: Vacation and Mountains. The universe seems to be in sync as we soon discover this beautiful homestay – Diddicoy's Forest Home in the lap of nature in Manali, Himachal Pradesh. This 3 bedroom cottage amidst Som Van forest in Batahar Village of Manali has the best of both worlds – the rustic charm of living in a forest, and with all the modern-day facilities to ensure guests have a comfortable stay – and it is just 5 min walk from the Beas river!
Borne of love by two friends, and now co-hosts – Bhumika and Sumit, this vacation home is loved by guests for their pure offerings amidst the vast spread of an apple orchard. We are thrilled to have come across this beautiful abode – and of course, its wonderful hosts. We chat with Bhumika today to know more about their homestay, their journey, furry friends, and more.
Bhumika with her friend and co-host Sumit and their pet at Diddicoy's Forest Home, Manali, Himachal Pradesh.
Hi Bhumika, lovely to finally chat with you. Please tell us more about you and Sumit.
Hello, I am Bhumika and I am hosting this property along with my friend Sumit. I come from a background in Hospitality and online travel, whereas Sumit has been working as a documentary filmmaker and photographer. As part of our work, we have gotten opportunities to travel to some of the amazing nooks and corners of India and Southeast Asia.
So tell us everything we need to know about this wonderful abode of yours – 'Diddicoy's Forest Home.'
Both of us have a great love for mountains and have a quest for knowing more and listening to stories and experiences and Diddicoy's Forest Home is our way of taking these experiences to the next level. Amidst Som Van forest, our garden home in Batahar Village of Manali offers some of the best bounties of nature. Huddled in an apple orchard full of flowers, butterflies, and birds, this home is at a 5-minute walk from the Beas river.
"Our 3 bedroom cottage is equipped with all the basic amenities of a modern-day home ensuring a comfortable stay. The surroundings offer an enriching outdoor experience for guests while enjoying the tranquility, calm, and peace of the Dhauladhar mountains."
Do you have a personal favorite spot?
The best part of the home is the verandah which provides a sitting area for guests to relax with a cup of tea or to just enjoy a read while lending occasional glances to the rich garden. The guests can also access the garden to steal some sunshine and maybe enjoy a small bonfire on a chilly night. The living and dining space are very much there for the guests to use all the time during their stay.
View from the verandah during snowfall at Diddicoy's Forest Home, Manali, Himachal Pradesh.
"Our furry pals will always be around to give you that extra dose of happiness.Most of our guests are very fond of them, anyone would be. We are also very proud of stirring up delicious meals from our very own kitchen garden. Besides that, there's a running stream, fish farm and riverbank is just  2 to 4 mins away."
One of the many furry pals at Diddicoy's Forest Home, Manali, Himachal Pradesh.
How has your roots/upbringing influenced elements of your homestay? And what does 'Diddicoy' mean?
We both grew up loving the hills and from the outdoors to indoors everything has a personalized touch. We make sure it is not any homestay that people visit just once and we'd vouch for that as out our guests keep on coming back 🙂
"Diddicoy means Gypsies. In older times in England, it was used as a slang. But in the modern-day dictionary, it means a non-traditional traveler pursuing a lifestyle similar to that of the traditional Romany traveler or gypsy. So when thinking about a name we thought if at all we move to another location and set up a similar space, we can always carry the name."
What kind of service, amenities do you provide? 
The home includes three tastefully done spacious bedrooms with ample natural light and views of the lush orchards. The rooms have comfortable beds, a sitting area, storage as well as an electric kettle for guest's comforts.
There is a common living cum dining area connecting the three private rooms. The open kitchen connected to the dining area can be used by the guests if they fancy cooking their own meal.
"Our forest home is ethereal every season, but during the snow season, it has a charm of its own and you'll only know once you visit."
We hear very good things about the food out there. Tell us more . . .
We grow organic local food in our kitchen garden and cook them for our guests. Everything on the table can be filled with seasonal vegetables, fruits, and different kinds of stuff we get to make using them.
"We offer a very warm and homely environment/service; there is no a-la-carte / menu. Fresh home food is served depending on the season, no bellboy, desk boy, just a simple and cozy space to unwind and relax.."
So, if this is not enough a reason for you to go and visit this forest home whenever you get the chance, make sure you follow them on

Instagram

and it will lead the way.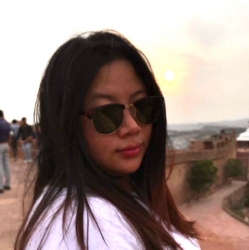 Latest posts by Aloli Achumi
(see all)