People who crack you up are the best kind of people, it turns any gloomy day bright and adds a dose of happiness to our otherwise dull day. Humor is something that needs appreciation and acknowledgment today more than ever. A lot of hard work and dedication goes into making these videos and all for laughs. Be it dropping truth bombs in the 5-second reel or taking relatable situations to a whole new level of fun, local comic artists across the country are making the best of the social media platforms to find their own audience – and vice versa.

Today, we chat with some super talented and hilarious folks from North East India whose unique humor isn't just funny but also gives a very refreshing glimpse into their local ways of life.
Meet the very talented Millo Sunka from Arunachal Pradesh – a genius comic who can bring out the hilarity of regular people from her hometown folks to Bangaloreans.Millo Sunka, Actor from Arunachal Pradesh
For all those who have watched the movie Axone, Millo Sunka is not a new face. Besides being a professional actor she also makes videos for her personal Instagram page and for Firstpost. She spent considerable time of her growing up years watching Indian stand-up comics in Bangalore cafes, following sketches of SNL, Key and Peele, Whose Line Is It Anyway? and exploring the wit of the British comedy scene. All of that – and combined with her own life experiences have blessed the world with her super relatable and funny content.
"I just want to make anyone who sees my videos to feel better after, and I hope everyone would stop taking themselves so seriously and learn to laugh at themselves." ~ Millo Sunka
"
How Bangaloreans tell stories.." by Millo Sunka
Say Hello to Kisenaro Odyuo from Nagaland, another gifted comic from North East, known for her hilarious takes on the daily lives of a Naga household, and sibling, society shenanigans.
Kisenaro Odyuo from Nagaland is based in Bangalore, where she works as a Creative Educator and Teacher trainer. She recalls being the "Clown of the Family" even as a kid and how her love affair with comedy started way back. Miss Odyuo's content has a generous dose of the funny side of growing up in a Naga household, and so much more. She has an air of lightening up the mood (which is apparent in her videos too) wherever she goes. With the pandemic situation, she suddenly got a lot of free time and that is when she graced us with her funny antics on Instagram( We lowkey thank the pandemic for this free time )
"I just wanna brighten up people's mood and spread positivity during these hard times. If I can make even 1 person smile by watching my video, it's an achievement for me." ~ Kisenaro Odyuo
Make way for Jeremy Lalhminghlua Râlte from Mizoram – the guy who single-handedly floored the whole of India during this pandemic lockdown, with his viral video of Micheal Jackson's "Earth Song"
During the countrywide lockdown, this guy single-handedly floored the whole of India with his viral video a few months back. And yes we are talking about the one with Micheal Jackson's "Earth Song" that made rounds on social media and WhatsApp. Jeremy currently works as a temp in the Education Department in his home state of Mizoram. He is a big fan of Jim Carey and Rowan Atkinson and would mimic their moves besides watching Whose Line Is It Anyway. He was also greatly inspired by his deep love  for Cartoon Network as a kid ("when cartoon network was great" he adds)
"I am not a professional (comic), and I don't think there's much that people can take out from what I do. but, I do it anyway because it's what I love to do. I would like to encourage everyone to do what they love – it can be anything.. you can be good or bad at it, you might not earn from it or your family won't benefit from it… but do it anyways to escape the harsh reality even for a short moment, or use it as fuel to power yourself to move forward in areas that you want to grow.

It might be a cliché for some of us, life can be difficult sometimes, so I guess it is okay to let go of ourselves sometimes and enjoy the little things and do the things that we love… (Am I stretching it too much? I am really nervous.)" ~ Jeremy
"2020 ain't got nothin' on us!! Stay Strong people. Boring Emai!!
remember me, even in your worst weathers" ~Jeremy
Here's our multilingual genius Aseno Vili Ayemi from Nagaland. Aseno has been cracking people up with her imitations of local accents of various Naga tribes – which btw, is spot on!
Aseno is known for her versatility in many local dialects from Nagaland. She grew up in a typical Christian family in Nagaland, owing to which she actively participated in Church and college activities like skits and mimicry. She not only participated with full zeal but also won some of them, and that is where her love for comedy began.  According to her, doing comedy helped her a lot, as by making people laugh, she got the confidence to fearlessly do what she loves and is good at.
"I want people to always believe in themselves because, from my personal experience, I can tell that though I've always had an interest in comedy, I didn't act upon it while growing up because I did not fully believe in myself.

With the catastrophe caused by Covid 19 everywhere, like anyone else, I was also jolted to reality. Every time I open my social media page, there was news about frustration and depression everywhere, and in my own small way, I wanted to bring laughter and smile one person at a time. That's where my first video was created in my own small room. And the response was overwhelming so from there on I never looked back. Believe in yourself and that will see" ~ Aseno
Introducing newcomer Gideon G Momin from Shillong, Meghalaya. This college student is showing great potential with his recent lockdown funny videos
Gideon just sat for his BA final year exams, and currently exploring the comic world as a pure hobby. Growing up, he was always a performer.  He and his friends would note down jokes from comic books and the internet and would perform during Christmas in Church.
"I want people to know my point of view as a person who is from northeast India. Most importantly I want them to have fun and have a great laugh." ~ Gideon
"Lawyer friends after studying Law: Expectations versus Reality 😜😜😜 " ~ Gideon
Meet the storyteller Lomkeng Joseph Tamuk from Arunachal Pradesh
Lomkeng Joseph Tamuk is an entrepreneur. Humor for Lomkeng came naturally, he was always the funny guy in the room and also someone who loved to strum his guitar and sing. His love for comedy however became official when he got a gig to host a show and it became apparent that people loved his jokes.  Most of his videos have a brilliantly sketched storyline, they may be short but worth every second.
"Happiness, Enlightenment, and Entertainment is what I want people to take away from my videos " ~ Jeremy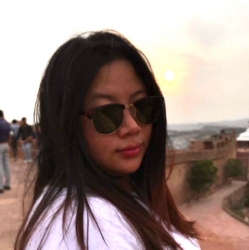 Latest posts by Aloli Achumi
(see all)