Today we have our Taiwanese friend Tzu-Han Hsu share one of her recent favorite bread recipe. She loves cooking and baking and is currently working as a part-time cake decorator at a local grocery store in San Jose, CA. In the near future, she aspires to become a full-time English teaching assistant in Japan. 
Learn how to make Korean Garlic Cheese Star Bread as Tzu-Han Hsu patiently takes us through each step.
Ingredients :
Dough: 150 g warm milk (105°-115°F/40°- 46°C)
20 gms sugar
3 gms active dry yeast (about 1 leveled tsp) (you don't have to activate it first if you're using instant yeast)
200 gms bread flour
100 gms semolina flour (if you don't have semolina flour, you can sub with whole wheat or just use bread flour)
2 grms salt
1 whole egg, beaten ,
25 gms butter
226 gms cream cheese (8 oz pack)
30 gms sugar
40 gms heavy cream (room temp)
For the garlic brush:
113 gms butter (1 stick or ½ cup)
50 gms garlic (about ahead)
About a tbsp of honey
3 gms fresh chopped or dried parsley, a pinch of salt
Steps for preparation:
Mix the beaten egg and yeast mixture with the dry ingredients and stir until a shaggy dough forms. Knead with hand until smooth and no visible flour is left in the bowl. cover the dough with a damp towel and let rest for 15-20 minutes.
After 15-20 minutes, knead the dough for about 15 minutes until you have a smooth surface and should be able to see light through the dough when performing a windowpane test. place the dough in a greased bowl, cover it with a damp towel and let rise in a warm place for about an hour or until doubled in size.
Make the cream cheese filling by mixing cream cheese, sugar, and whipping cream together until smooth. Once the dough is proofed, punch it down to deflate it, and then divide it into 4 equal pieces. shape each piece into a round shape. Cover and let rest for 15 minutes before rolling out the dough pieces
After 15 minutes, roll out each dough into an 8″-9″ circle, then place one on top of a parchment paper or a silicone mat. spread the cream cheese mixture on top, then top with another dough circle. repeat the process until you're done with your cream cheese mixture and dough.
Use a jar or container to make a circle mark in the center of the star bread. cut the bread with a knife or bench scraper around the circle into 8 pieces. then, cut one of the 8 pieces in half and twist the two strands outward twice. Repeat with the remaining 7 pieces.
Garlic Cheese Star Bread Recipe by Tzu-Han Hsu
After shaping, preheat the oven to 375°F or 190°C when there are 15 minutes left of proofing. Bake in the center rack for about 20 minutes or until the outside is lightly colored.
Make the garlic brush while the bread is proofing. melt the butter with garlic, parsley, and salt in a pan until the butter is melted (you don't want to cook the garlic). remove from heat and let cool before adding honey and egg. mix everything until smooth.
Once the bread has been baked for 20 minutes, take it out of the oven and brush generously with the garlic egg mixture. Bake for another 12-15 minutes or until the bread is nicely colored and golden brown. Take it out of the oven and enjoy warm or the next day toasted.
We bet you can smell this delish bread from there already, for more such recipes, follow Tzu-Han Hsu on Instagram.

Happy Baking everyone 🙂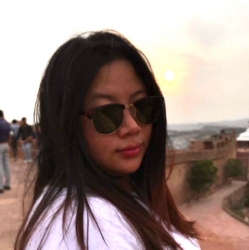 Latest posts by Aloli Achumi
(see all)