Lubna Karim from Guntur, Andhra Pradesh, started her own food blog 'Yummy Food' to journal the recipes she created. Looking at the brilliant response she got from readers, she went on to devote herself full-time into creating recipes, food styling and food photography. 

To kick start our weekend, Lubna brings to us one of her most personal recipes. It's a traditional Andhra recipe made with fresh seasonal ingredients — Drumstick and Raw Mango Curry or Sojni ki Munagakaya Mamidikaya Pulusu. This recipe was passed down from her mother-in-law, whom she bonds over cooking! 
Authentic Andhra Cuisine is usually vegetarian/vegan and known for its combination of tanginess and spices. The raw green mangoes available in Andhra during summers have that special sharp-flavour which, when absorbed by the drumstick, tastes extremely delicious.
INGREDIENTS:
3 drumsticks (munagakaya), peeled and cut into 3" inch long even pieces
1 onion, finely sliced
½ medium sized raw mango (mamidikaya), peeled and cut into cubes
2 green chilies cut into half
1 tbsp red chili powder
½ tbsp turmeric powder
¼ tbsp coriander powder
Salt, as per taste
2 tbsp oil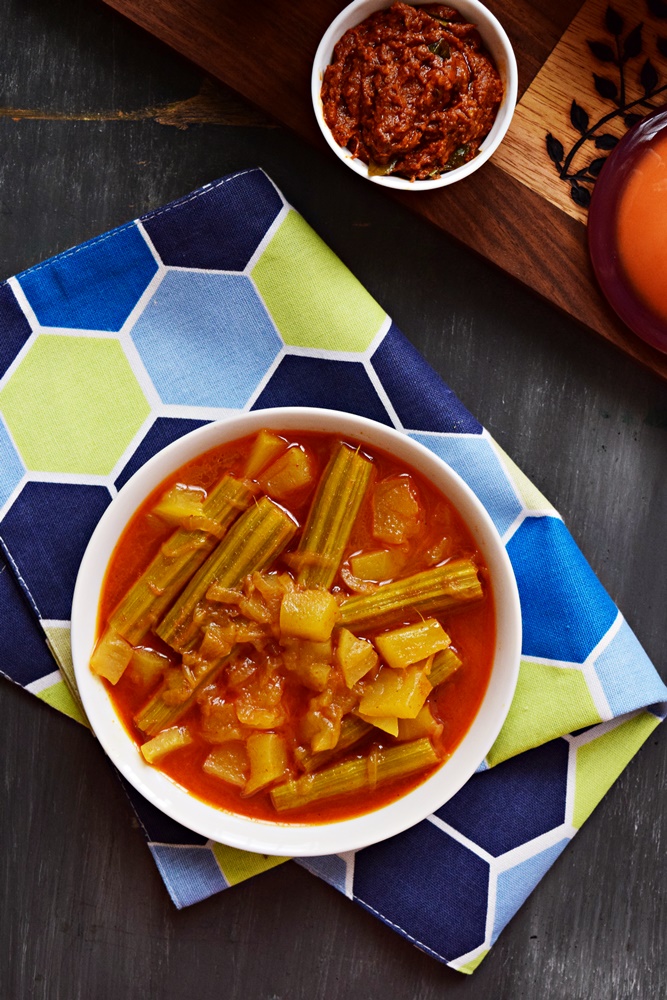 PREPARATION:
In a heavy bottom cooking vessel, add oil and fry onions till translucent. Now add drumstick pieces, green chili, red chili powder, turmeric powder and salt.
Stir till spice powders coat the drumstick pieces evenly. Add 1½ cups of water and close the lid. Cook on low flame till drumstick pieces turn soft.
Now add raw mango cubes and stir to combine. If the water is dried up in the curry, then add ½ cup of water. Check for salt and leave this to cook until raw mango pieces turn soft.
Sprinkle coriander powder and turn off the flame. 
This curry is to be served with hot steamed rice and a dollop of ghee!
Check out more of Lubna's recipes on Instagram and be inspired to create easy to make tasty homemade dishes.