Kavya Madappa is from a hill station in Karnataka, Coorg. Growing up, she was always surrounded with nature – hills, rivers and fresh air. Her love for nature has inspired many of her ideas and revelations, one of them being Bluecat Paper – a venture that makes and sells tree-less paper. It uses various by-products and textile wastes like linen, flax, hemp, coffee husk, mulberry bark, and banana fiber to make creative products like notebooks, coasters and more. 

With over 650 products, a few installations and an exhibition in Dubai, she has become an eco-warrior! We were amazed to know about her venture and how she is giving her best to make the world a better place! Scroll down to read our chat with her. 
Hey Kavya, thank you for taking some time out to chat with us. Please introduce yourself to our readers! 
Hi! My name is Kavya Madappa, I'm 41-year-old. I live in Bangalore even though I am originally from Coorg, Karnataka. My hometown is known as the Scotland of India, with green rolling hills and feel-good monsoons. I have a luxury resort there named Amanvana. Bluecat paper is my 2nd venture and was born out of my responsibility towards the environment and just immense love for creative pursuits.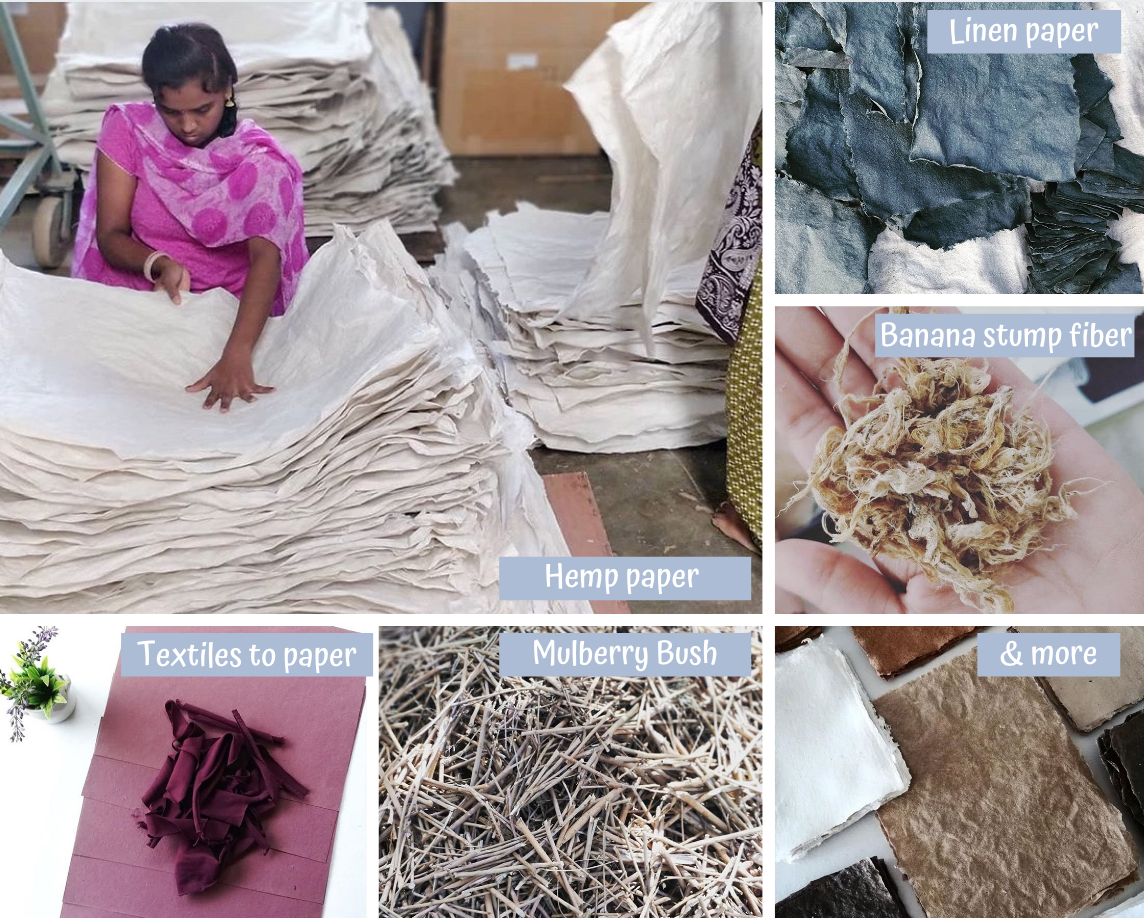 We are intrigued to know this idea behind Bluecat paper. Can you share in detail what the project is about?
Bluecatpaper makes tree-free paper. This is what we are majorly about. We use only secondary by-products to create our papers. This means we collect textile waste from the industries such as cotton hosiery, linen, flax, hemp, coffee husk, mulberry bark, and banana fiber, among others. We then cook it, pulp it and lovingly form it into sheets, all by hand. The water is then recycled back into production making the products earth-friendly. Now, these papers are then used to make a range of creative products ranging from home decor products to stationery items to workplace organisers and much more. 
Tell us why you chose your name and a little bit more about your brand concept!
Bluecat paper is a happy, creative and odd name that will linger on your mind. It's perfect for our small corner of impact. We hope to have our message linger on your mind and hopefully, it will start a chain of influence to truly save the planet. We are also trying to fight the misconception that being eco-sensitive or an eco-warrior does not let you have exciting options. We use our creativity and our designs to help people reimagine a more mindful way of living with the most innovative products.
What are the benefits of handmade paper Vs normal machine-made paper?

No more trees need to be cut down since we use easily available recycle material – reducing waste.  

Chemical and acid-free production process – eco-friendly decomposing.

Made utilising renewable solar energy and recycled water which is great for the environment.

Handmade paper requires, at the least, 50% less energy and 75% less water than machine-made paper. 

It also cuts air pollution by 70%.

The paper itself has higher tensile strength – resists tearing as compared to regular mill made paper

Each paper is a story and definitely looks more elegant than the normal stark whites. 
What inspired you to start Bluecat and were you influenced by your roots?
While working on Amanvana resort's printing collateral, I was intrigued about paper made from cotton rags instead of trees. This created a curiosity that led me to research and learn everything I could about these alternative papers. Right after a couple of paper making courses, Bluecat Paper was born. I feel that my interest in this subject did stem from being brought up in Coorg. Growing up in a tree-friendly space has always made me value it more. We need to respect our planet. After all, we are only one of the many species that inhabit this place. We need to be more accepting and reduce our ignorance and monetary greed, to focus on the bigger picture and the future. 
What are your biggest challenges and the lessons that you've learnt so far?
Because this was a new field for me, there is lots to learn but it keeps me alive and energetic! The challenges I face currently are: trying to speed up the process of making paper, keeping costs down, educating people to use more tree-free paper, installing and experimenting with new machinery, training staff to create even sheet of paper and trying to be dynamic and always trying out new raw material to convert it into beautiful products. 
That sounds beautiful! Where can we find your products?
With 650 innovative products, you can shop on our website or find us on many online marketplaces. Offline you will find our products at Organic world stores, Go native, Ethic attic in Bangalore and more. Follow our Instagram for more!