A journey of art to profession. A journey of realization of how art has transformed him to be passionate about sketching faces of people. Today we present to you a soft conversation with Daksha Salam (@dksha__) – a Textile Student from National Institute of Design who believes change is natural.
Share a little detail about yourself and what you have been up to?
My name is Daksha Salam and I'm 22 years old – a student of Textiles from the National Institute of Design. I am a Meitei, born in Imphal and grew up in Assam and I love cats.
What initially sparked your interest in this field?
I've always loved to create, since I was a child. I remember when I would get bored of using fabrics, I would use scraps like old tires and balloons and make dresses and garments for the Barbie dolls. This helped me to extend my imagination of playing with dolls to another new level. I slowly branched out into other forms of creating art as I grew older – like sketching, cooking, photography, textiles and now water colors.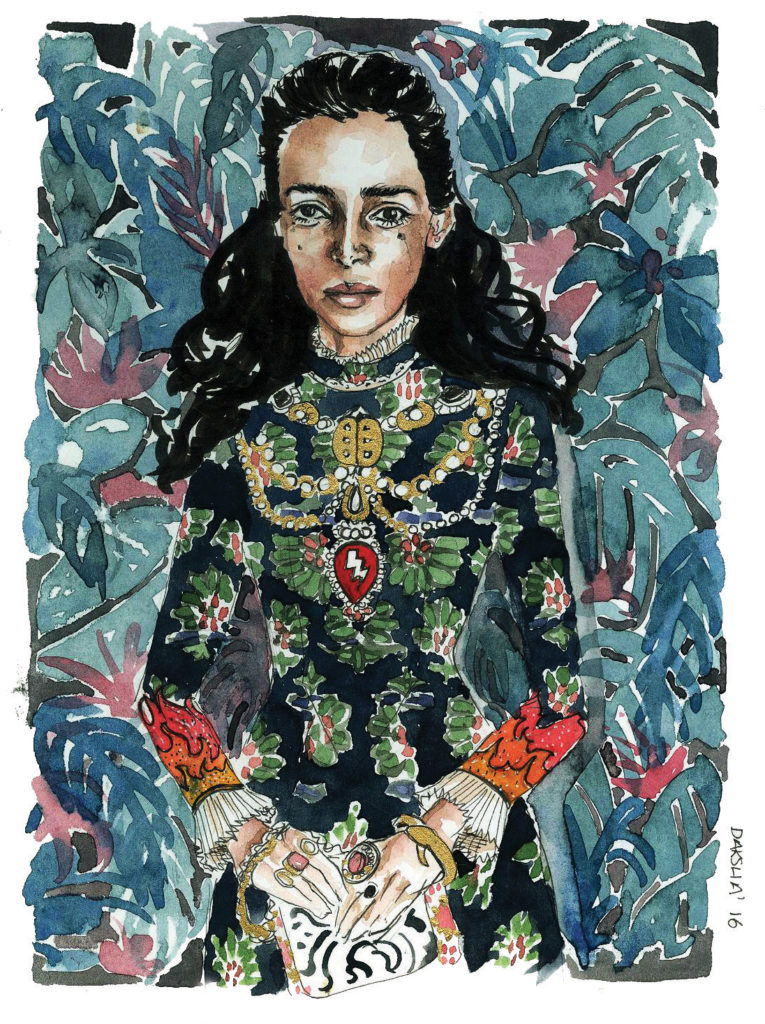 What do you do full-time? If part time, how do you manage?
Well, I am a 4th year textile student and I am currently in Assam working with a company called FabricPlus – helping them develop a new brand. As a textile student, I give myself time to solely concentrate on my water colors once a while in a month. It's almost like a cathartic act.
"And I must say, sketching and water coloring really helps me relief stress."
What's your creative philosophy? Where do you take inspiration from?
Well I believe that creativity is formless and changes every time. My art always evolves and continuously changes; and there are so many ways of expressing it. I consciously allow for this change to take place since that's very important as a creative person.
I draw a lot of my inspiration from feminine things. Ever since I was a little boy, I've always been inclined towards the aesthetic and beauty of femininity.
"Femininity is such a powerful entity that we have around us." 
What do you hope people take away from your art?
Ah! It's mostly a true and deep appreciation of femininity. I have always found art to be a more sacred and true form of appreciation.
What gets you particularly excited about your art?
The process! I love to see how a simple pencil sketch can transform with each layer and they are equally beautiful. It so happens that I have to find a point where I need to be completely satisfied.
Can you single out an item from your work which you are particularly proud of?
It has to be the portrait I did of my sister and of Freida Kahlo. There were also tour posters that I had made for a band named Parekh and Singh.
Where can we find your artwork
You can find them on Tumblr, Instagram & Facebook
Latest posts by Asmita Das
(see all)