2020, as we all know it, has taken a toll on all of us – and continues to restrict our life in new unexpected ways, even as we wind down another year. But today, I want to share a story about how this pandemic has turned out to be a blessing in disguise for some, as a part of our story series on 'Covid Inspirations.'

As I found myself in yet-another browsing sessions during the lockdowns, I came across a Youtube video of three quirky sisters from Nagaland – which I found pretty interesting. And as I dug deeper into their videos and story, I find out that one of the sisters runs a small creative corner on Instagram, called the 'Nature Art Creativity.'  I was immediately blown away by an array of gorgeous resin art with intricate detailings made out of natural flowers, leaves, and what not! Most fascinating was the fact that all of this delicate artwork are actually things you can use in day-to-day life – like a comb, a soap case, a tray, etc. So I reached out to the creator – Achila, from Dimapur to explore more about resin art, her artwork – and more!
Achila – Resin Artist & Creator of 'Nature Art Creativity', Nagaland
Kumti: Hi Achi, nice to have you as a guest at R&L. Please introduce yourself.
Achila: Hi, I'm Achila! I'm a self-taught resin artist. I grew up in Shillong, studied in Delhi and now I'm finally settled in Dimapur with three of my siblings and my hardworking single mother. As a kid, I was pretty creative and often enjoyed expressing myself through art.
Today, I continue with that artistic spirit through my small venture 'Nature Art Creativity' where I try to re-create utility items in an artistic way.
Kumti: How would your friends describe you?
Achila: I am a brutally honest person, a lot of my friends come to me for advice, so they would describe me as a. My friends often say that I'm a hardworking and reliable person.
Kumti: How did you get into resin art? Give us an introduction to your work at "Nature art creativity"
Achila: My first experiment with resin art started just last year in 2020. How I got into this was actually by chance through Instagram. One day something so pretty caught my attention on Instagram – it was a beautiful resin tray. I was shocked to learn that it was handmade! I was very curious and was fascinated by it. So I decided to give it a try. I immediately googled the basics and went online to order all the things I needed to get started (with resin art). 
I recently started gardening, so nature elements are a big part of my work. I often collect flowers, leaves, ferns, etc.. to incorporate into my resin art. So you will see a lot of familiar flowers and leaves in my work – arranged in beautiful resin settings.
Kumti: What was the first thing you made?
Achila: The first thing that I made was a coaster which didn't turn out great but I kept trying till I got the hang of it. There were a lot of times when my work didn't turn out good but I would always tell myself that it was great.
Resin Soapcases with real flowers – by Achila
Kumti: Describe a typical day in your life..
Achila: I start my day with a cup of coffee then I like to go to my garden and tend to my plants. When I have free time I enjoy making YouTube videos with my sister. I like to also cook sometimes.. but mostly keep myself busy in my small garden; on lazy days I just watch movies on Netflix.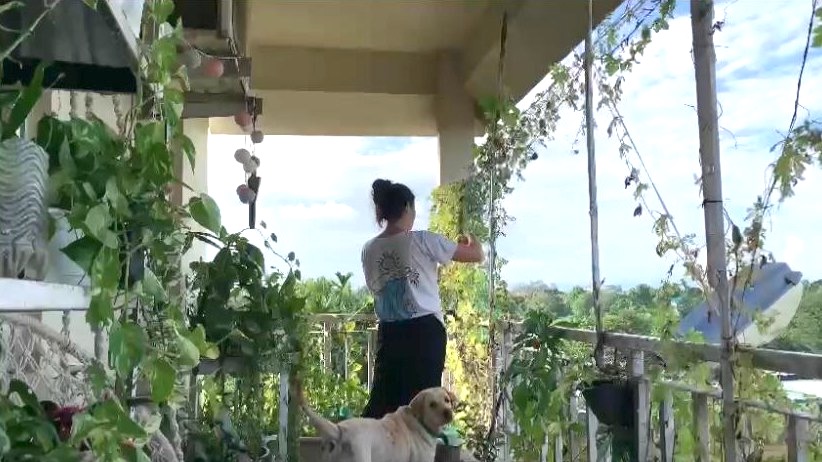 Kumti: What are your favorite childhood memories?
Achila: I had a very fun childhood back in Shillong. I remember playing around with my siblings and cousins almost every day and we would walk around tiny footpaths and pluck fruits and flowers and explore new places.
Kumti: What's a book or movie that changed your perspective on life?
Achila: One of the books which I have been reading is called "The Magic by Rhonda Byrne." It talks about nurturing a grateful and positive attitude towards life; after practicing it, I saw many opportunities coming my way for which I am truly grateful. Another book that I can really connect with is "What I Know For Sure by Oprah Winfrey." Reading this book led me to open my mind to many lessons in life, and this helped me both spiritually and mentally.
Kumti: If you're having a bad day how would you make it better?
Achila: If I'm having a bad day I would try doing activities that help me stay positive like Making art while listening to podcasts or simply being alone and getting rid of all the negative thoughts and energy.
Kumti: What's the first piece of advice that you received?
Achila: A piece of advice that keeps me going is "work towards your passion and you will find your goal /purpose (which I'm still working on), and "Never give up on your passion."
Kumti: Any piece of advice for our readers?
Achila: Don't be afraid to try out new things because you never know what you're capable of.
Resin Tray and Coaster Set – by Achila. Follow her on Instagram