How often do you see a biker lady? We can't help but crush over women who break the norms of being confined to certain limitations but instead, aspire their dreams – The Pursuit Of Happiness!
Meet Sneha Suresh (@motorider_sk) who hails from Navi Mumbai. A Freelance Makeup Artist, and an HR Professional, Sneha is dead passionate about traveling and bikes. 
Tell us for how long have you been riding?
I've been riding for 5 Years and whenever I want to have my "me time" I go for a bike ride. My husband is also a biker so usually it's the two of us who would take our bikes and go for rides.
And how often do you guys travel? Any memorable rides?
It depends on our mood. And we have actually covered quite a few places. We go off the road sometimes. If we don't have time, then we go for a breakfast ride. The best ride till now has been our ride from Mumbai to Goa. Since it was our anniversary we decided to do an anniversary ride.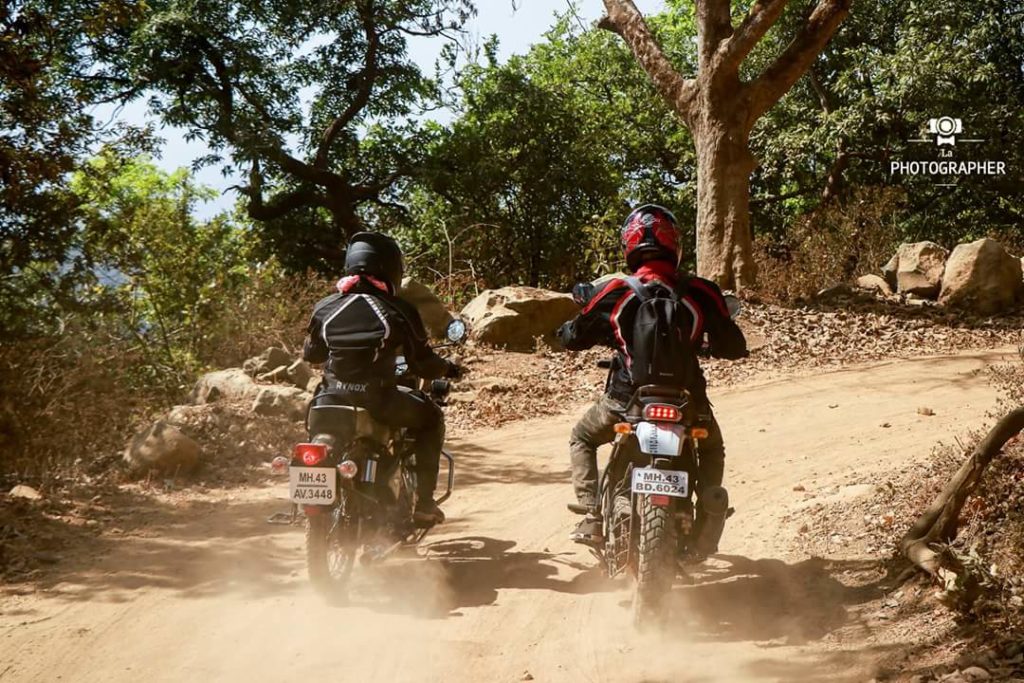 Post our wedding there is a ritual followed in Hindus where a girl has to go to her husband's place from the wedding venue. We had done this on our individual bikes on our traditional dress. Something that is very different, special, unique and very memorable to us.
Any memorable incidents that you've encountered while traveling?
Every time I travel, I keep experiencing new things, I keep learning new things. One that I will always remember is when I went off road to a remote place outside Mumbai. My bike broke down and we had no one to look around for help. It was just me and my husband.
After 2 hours of searching for help, we finally found a local guy helping us. He helped us by not only fixing my bike but with food and refreshments even when he had nothing with himself. For me, this was a big deal for us since we would have been stuck for hours if he wouldn't have come for rescue.
Have you ever been to the North Eastern part of India?
I haven't been to North East but it is definitely on my cards. I have heard a lot about their people and their hospitality. I am just waiting to pack my bags, get on my bike and explore the beautiful North Eastern region. And I'm sure, it's going to be an amazing experience.
How have your roots inspired you to what you are today?
I have always admired bikers and riders. There was someone in my family who was a biker but unfortunately met with an accident and is no more now. Post that, there was a lot of restrictions in my family when it came to traveling by bike.
However, it was important to make my family understand that biking is something that keeps me going. And then my mother and my husband together gifted me a bullet and THAT WAS IT!
"My mum and my husband proudly say that "Sneha goes for trips on her bike because she loves to travel and explore."
Where is it that you are planning your next trip to?
Spiti and Bhutan are my favorite places that I'm planning to travel very very soon since I have read a lot about them.
"I basically love calm and serene places when it comes to riding and Spiti and Bhutan are one of them. You can just keep riding, enjoy the view, and realize how beautiful nature is!"
What have these experiences taught you?
Traveling makes me realize who I am. When I'm on my bike with the visor down, it's just ME. And everyone needs that time with oneself. For me, I get that time when I travel on my bike.
Any message to the young girls out there?
Following your passion is everyone's dream. It is a bit difficult when it comes to girls who want to break the stereotypes and live their dreams. However, sometimes you need to listen to yourself and not the society. After all, its you who is going to be happy or sad with the decisions you take.
Where can we connect with you?
You can connect with me on Instagram