A fair amount of passion and hard work goes a long way, and that is exactly what Kirin Vas from New Delhi stands testament to. From setting up her very own jewelry brand Funkanatomy, to being a successful food stylist and having her work featured on some big food brand campaigns, she really is a prime example on how to make a cool living by following your creative outlets.
We had a little chat with entrepreneur, jewelry designer, and food stylist, Kirin Vas to know more about how she successfully juggles her super creative freelance life. Read on to know what this true blue Libran has to say.
Hi Kirin! Tell us a little bit about yourself, where you're from and what you've been up to?
I'm Kirin Vas, 29 years old and based in New Delhi. I'm a food stylist and also run my own jewelry brand Funkanatomy. I grew up in Delhi NCR and launched Funkanatomy when I was 22. I started styling food independently at the age of 24 after assisting one of the top food stylists in India for 3-4 years.
Tell us about your brand, Funkanatomy. What's so special about it?
I think that it's super special that the designer and the creator are the same. And because of this, the number of designs or pairs per design available is limited. I like variety so in the whole world, there will be a maximum of 5 people, maybe, who own that particular design. Funkanatomy is custom, bespoke jewelry that doesn't cost an arm and a leg.
One of Kirin's many pretty designs for Funkanatomy
What is the story behind the name and the brand concept?
I've always thought that the earrings I made were pretty funky, and had dreams of expanding someday into other stuff as well. I didn't want to just restrict the brand name to earrings – hence the name Funkanatomy.I want to make people who bought the earrings feel special about their purchase.I strongly believe in keeping the connection between customer and creator direct, which is why you don't really see Funkanatomy earrings sold on any other platform.
Kirin setting up a Funkanatomy pop-up shop at her college fest.
How did you come up with your business idea? What was the inspiration behind it?
 I think I was in the 8th or 9th grade when I went shopping with my mom. I saw all these bright shiny sequins on sale and immediately decided that I NEEDED THEM. So I bought a massive amount of beads, with my ever supportive mother funding this and proceeded to lock myself in my room to try and create something out of them. What I ultimately made looks quite shoddy when you see it now… But, at the time, I thought I was a design GENIUS! I kept making "jewelry" from these sequins using plastic wire and superglue pretending they were diamonds, rubies, and wires made out of platinum… and that's how the journey started.
A few years later, I went to Australia after my class 10 board exams and I was totally taken in with the fact that my cousins made their own jewelry. Obviously, I wanted in on this so I went bead shopping with my cousins and ended up spending about 250 Australian dollars that day! You must understand that as a 14-year-old who didn't get any pocket money on a regular basis and had no steady job – it was a serious blow to funds.
Kiran's Creative Tools
"My sister at the time was studying in the US so I decided to make earrings and give them to her to sell when she went back to University. To my pleasant surprise, people actually wanted to buy the stuff I made. You must realize since I was starting out, my designs weren't all that sexy. As the years went by, I got a little better and my designs got a little more professional and polished."
When I was in my second year of college, I decided to put my jewelry making skills to the test and set up a stall at the yearly Diwali fete.
"Flanked on either side by people bringing suitcases full of factory-made things, I felt slightly stupid with four little baskets filled with earrings. On the verge of a panic attack, my best friend, Oli, convinced me things would be alright and we began spreading out the earrings I made. 

By the end of the day, I had sold almost everything I had brought along with me along with some of the stuff I had made on the spot. People were interested in seeing how exactly the earrings were made too! Some of them even tried their hand at designing their own earrings… I haven't looked back ever since."
I loved that sense of community I shared with the people who bought my earrings that day… They wanted to know how I made them, where I bought the raw materials from and had a load of questions really. I loved every minute of it. What I am trying to do by setting up Funkanatomy is to recreate that wonderful vibe and sense of community online.
So tell us more about your food styling too. What initially sparked your interest in that area?
Since my brand principles, i.e, being the sole proprietor and not hiring help to make earrings etc and keeping Funkanatomy's reach limited was definitely not going to support me as a source of livelihood, I needed something that would give me the freedom to do both – earn a livelihood and sustain my passion of making jewelry for Funkanatomy.
I've always been interested in photography, design, and aesthetics, and have never wanted to do a desk job. I needed something where I could use my creativity and my hands. I tried a lot of different jobs before I came across food styling. One of my sister's friends was a food stylist based in Mumbai and he used to come down to Delhi to work quite often. I happened to accompany him to a few photo shoots and then I was hooked.
What gets you particularly excited about food styling?
I love the collaborative effort of it all – everyone at a shoot set has their particular field of expertise. From the art director who has a vision for the brand or photograph to the photographer to the chef and me. I love that each shoot is different from the other, and of course the multitude of different people you meet, both good and bad. The best part is that since I freelance, the jobs will all be restricted to a particular time frame – so even if you might not get along with everyone, at least there is a quick end to it all 😛
Tell us about your most memorable food shoot?
It would definitely be the first ever shoot I was hired for as a stylist. I remember wondering whether I would be able to manage like how I had seen my mentor manage. It was so fulfilling to hear that I added value to the photoshoot and that gave me the confidence to keep taking on more shoots as a stylist.
Kirin's work as a food stylist featured on a Dunkin' Donuts campaign.
How have your roots or upbringing influenced your work and working style?
My mom and dad have always been extremely supportive with regards to whatever path I chose for myself. Growing up, we were always encouraged to look at things from a different perspective from that of the norm. This sort of thinking has helped me a lot through life I feel.
"Mum always encouraged me and my sister to think creatively and instilled a wonderful aesthetic sense in us. She also, along with my father, traveled the world and though I tease her about her hoarding capacity, the very same has helped me when I need props from a particular place for a shoot and she happens to have a bunch of souvenirs that work perfectly for the same."
My father is an author-publisher by profession and it is by looking at him that I believed it was possible to earn a livelihood from being a freelancer. He instilled in me a sense of discipline and professionalism, which to be honest my mother did too… That, for me, is the cornerstone of being a successful freelancer.
What do you do full-time? If part-time, how do you manage between all these two main passions?
I would say Funkanatomy is my full-time job and I freelance as a food stylist. It's a delicate balance and sometimes, Funkanatomy does suffer in the process – only by means of not getting enough time to create new designs and upload them. But I love them both and it's brilliant to have these two avenues of creativity available to me as a means of earning an income.
Kirin takes us behind the scenes as she does some final touchups at a food styling shoot.
Have you always wanted to be an entrepreneur?
I never really knew I wanted to be an entrepreneur, but I definitely had the knack for business… From getting my sister to sell my earrings for a dollar or two when I was in the 9th grade to setting up a stall in college… All I knew was that I needed to do something that would involve me making things.
What has been the biggest challenge you've faced so far and your most important learning?
My biggest challenge with both Funkanatomy as well as food styling was figuring out when I was ready to actually START. I dilly-dallied with both because I thought I was not ready.
"And I've learned that you're never really going to feel 100% ready. There is no such thing as waiting to start something till you're READY because that way you'll NEVER start. Just go for it, give it a go, start your projects and remember that no matter what you do, there's always scope for improvement."
Kirin with her workstation essentials.
To see more of Kirin's food-styling work, behind the scenes from her jewelry-making, follow her on Instagram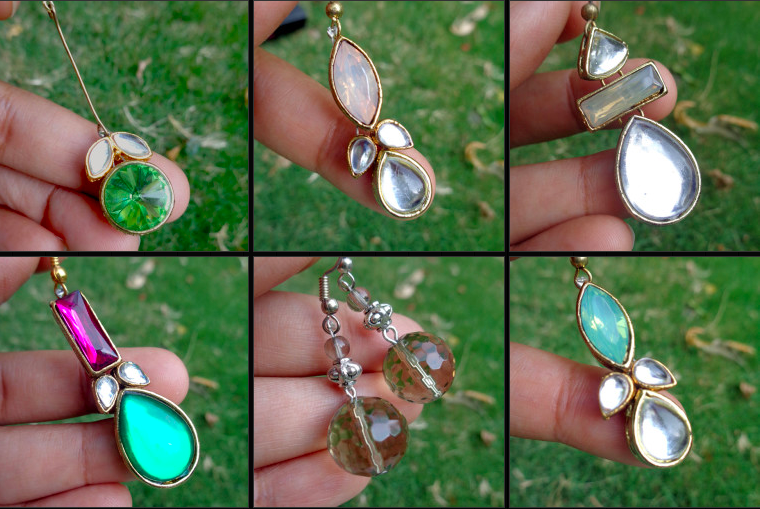 Latest posts by Meg Dsouza
(see all)