Iram is a band formed by 5 talented musicians, and is based out of Bangalore. This progressive rock band released their first album Azal, which was loved by critics and music lovers alike. 'We hope our music brings attention to the growing hostility and angst in the world. We want to create music that inspires people to build a world without hate', says Neil, the founder and lead of the band. 
A truly humble group, these 5 boys are as charming to chat as they are on stage! We spoke to them about how they came together, their journey so far and plans for the future.
Introduce us to your members!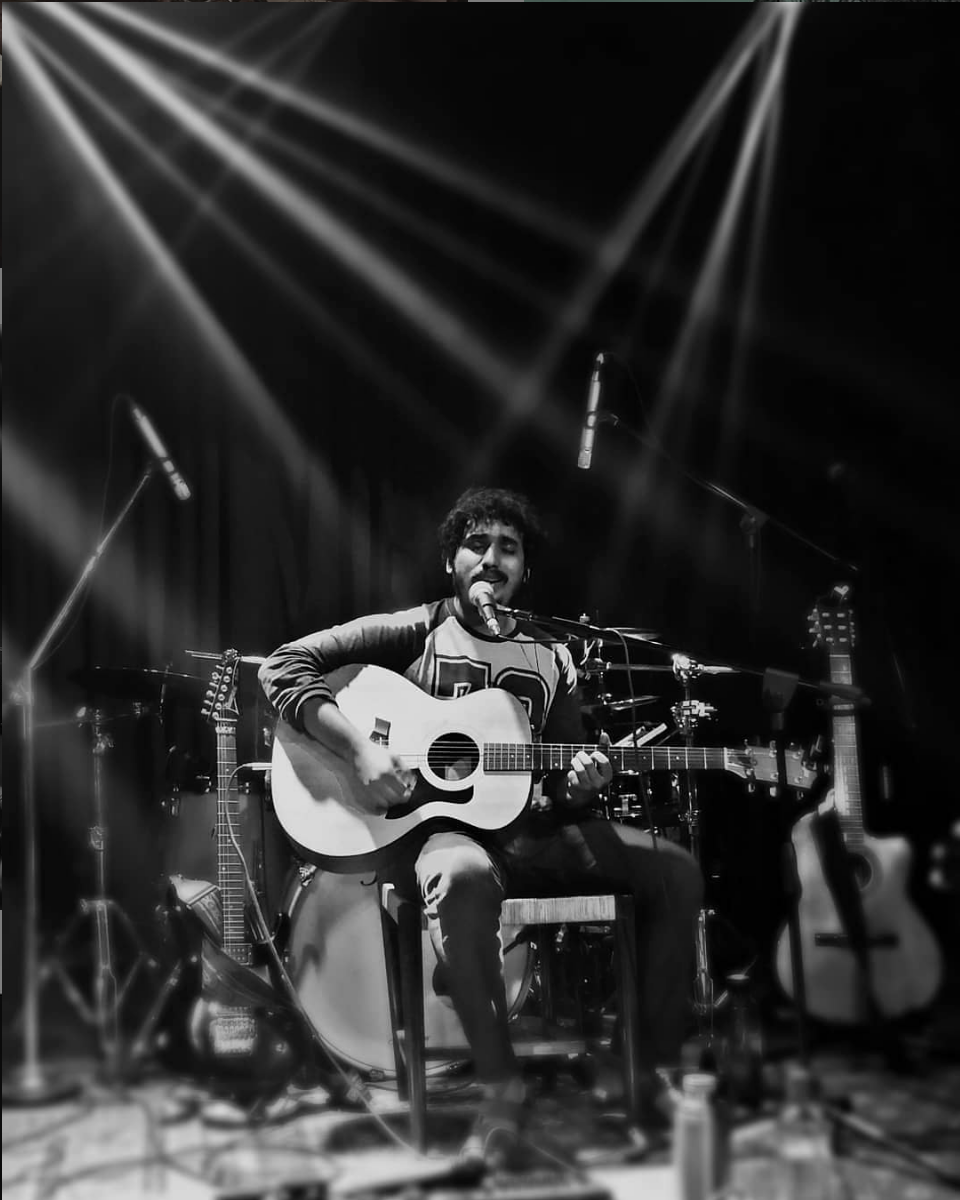 Meet Neil Simon Abel
"I'm Neil. I was born and raised in the Middle East. My family moved to Bangalore and I completed my graduation from here. We are originally from Gulbarga, which is in the northern part of Karnataka, but have been in Bangalore for close to 16 years now. So it's safe to say that Bangalore is home. I am a qualified Civil engineer but I quit my day job to pursue music full-time 4 years ago and it's been amazing. I've worked with other musicians on a part-time basis and teach music during most of my week.
I initially listened to music on TV – mostly 90's Bollywood film music. I truly started learning music when I was 15, when Pakistani Pop music was the trend. Around this time, I started singing and writing. Music became an even bigger part of my life when I was studying engineering. That was when I was introduced to a lot of western music which I can say are my biggest influences in terms of composing and songwriting. But when I sing, I'm still inspired greatly by people closer to my roots like Nusrat Fateh Ali Khan.
Growing up music was always considered something worth doing only as a hobby. Although I was always playing or listening to music, it never occurred to me to choose it as a career. This changed when I was in the 11th grade when I was asked to perform for my school's 25th-anniversary celebration, in a stadium in front of tens of thousands of people. I was incredibly nervous, I remember getting up on stage and seeing all these faces staring back at me. I started to shake uncontrollably. But I gathered my courage and sang and the crowd grew quiet and then came a huge roar. I knew it in that moment that music was my calling."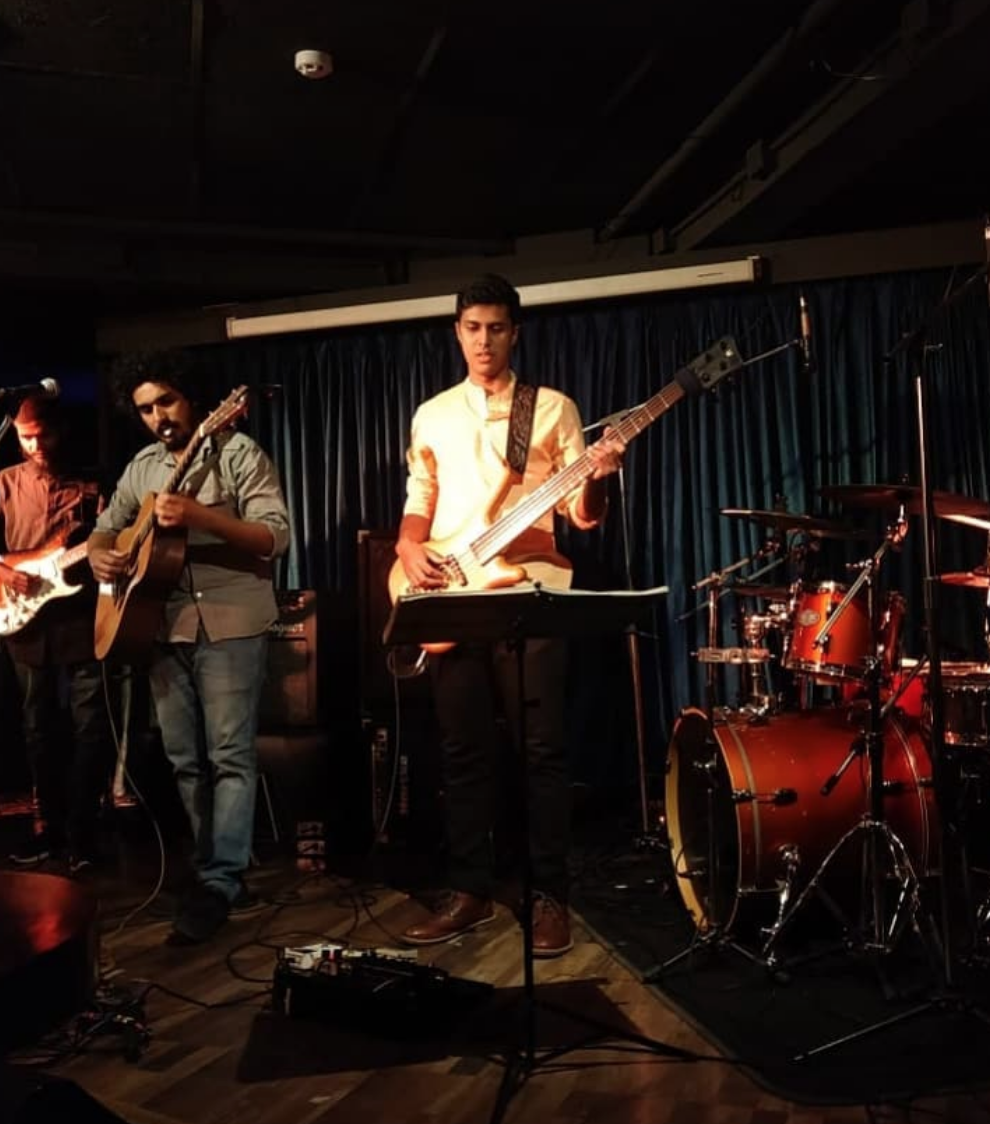 Meet Shashank Dutt 
"I'm a musician, bassist and teacher, born and based out of Bangalore. I play for a few bands in the city and freelance as a session bassist as well. I recently opened a jam room and studio in Basavanagudi, called Bedrock Studios and since then I have started taking up recording sessions and private classes for bass guitar and music theory as well.
Music was an escape for me ever since I was a kid. Every time I hear a song I'd discover new things which I hadn't paid attention to before, such as instruments and harmonies. This is how I discovered the bass, and its prominence. I was inspired to learn to play it.
"Growing up, my elder brother introduced me to a lot of songs that would later influence my playing. It's amazing how the music I enjoyed in my childhood set a tone for my career now and moulded my approach and playing style. My parents were (and still are) big fans of Boney M, Michael Jackson, Abba, and the pop music of their generation helped me later to explore and discover a lot more artists."
Meet Aadarsh Subramaniam 
"I'm originally from Tamil Nadu, but Bangalore feels most like home! I am 23 and I work as a musician in here. It has been a little more than a year since I took this up professionally, and it has definitely been a great journey. I've been working with various artists on recording projects, as a stage tech, sound engineer and as a session guitar and keyboard player for bands in and outside Bangalore.
Music has been in my family for generations and I was introduced to it at an early age. I spent time in music-related activities more than anything else. It felt like the most obvious choice for me to take up music after my studies!
My childhood was spent far away from my family and in a very disciplined environment. I think that made me strong enough to be able to work around challenges that this industry puts up!" 
Meet Himanshu Gautam
"A guitarist by profession, I was born and raised in Lucknow (Uttar Pradesh). I was 17 years old when I moved to Andhra Pradesh and joined Sri Sathya Sai Mirpuri College of Music, where I learnt Hindustani classical music (vocals and tabla). Here I learnt the important principles of correct practice. Then I came to Bangalore and pursued western classical music which inspired me to develop an understanding of music that stemmed across all different genres and periods in time. Currently, I love producing and playing different kinds of music with different bands..
It all started with me playing the guitar for fun, which later turned into an important part of my routine. Since it felt way more natural and intuitive, I was very confident that this is what I would want to continue doing.
I'm fortunate to be born into a family full of musicians. I had all the support and encouragement I needed to learn and pursue it. While I was growing up, my father and my brothers always inspired me to respect this gracious art."
Meet Shawn Jacob
"I am the drummer of the band. Originally from Trivandrum, I moved to Bangalore 2 years back to work as a musician, music producer and instructor. I came from a family that is rooted in music and grew up listening to music. It was always there in my blood.
Growing in a church atmosphere helped me understand and value discipline as a musician. It was my uncle who helped me pick up the sticks for the first time and since I was 10 years old I have dreamt of being a full-time musician."
Amazing! When and how did Iram begin?
Initially, Iram had Neil and another band member. Azal was their first release. Right after the release, it was reviewed by a German Newsletter, The Hindu and a lot of other music-related magazines and blogs which was very unexpected, but encouraging at the same time. After the release of Azal in 2016, they tried to find bookings to perform but it was a slow start. Luckily, the ball got rolling and even though they didn't perform as much as they wanted to in the first few years, they did learn a lot. Every performance helped them refine their music and they also learned how to network and market themselves better. We have come a long way since then, with performances in Chennai, Kochi, Delhi and a lot to look forward to in 2019.
How did all of you come together to take forward Iram?
Neil met Shawn through a previous band member. He then contacted Shawn and asked him if he would be interested to join the band. Aadarsh and Shawn were part of another project together. They gathered for a jam session and really hit it off as a unit. Around this time Aadarsh suggested Himanshu and Shashank join for Electric guitar and bass respectively. 
While music has the effect of bringing people together, it is also about mutual respect for each other. We really enjoy playing with each other and realise that everybody has something different to offer. We use these individual talents and ideas and blend them to create something truly unique.
What does your band's name mean?
Around the time of recording Azal, I was looking for an Urdu name for the band and was going through Urdu words. I came across the word IRAM and loved how it sounded. It means "Garden in Heaven" which really resonated well, so we kept it!
What's your philosophy and your source of inspiration?
We all are capable of doing anything we want in this lifetime as long as we're ready to invest enough time and effort into it. And when you actually get to do something you truly admire, every day is a blessing in itself. Also, each artist who has made it big has done something right somewhere in their path. And since there are so many variables in life's situations, there is no one formula to get it right. We just have to give our best from what we know and what we can imagine is the right way and hope things fall in place.
Our biggest inspiration is the nature of life, how it originated on this planet and how the universe came to be, also follower by the future of the planet and the human race. It's incredibly humbling when you realise how small you are and yet your actions can have a profound impact. The beauty of it all is overwhelming and the interconnectedness of our lives is something we should never take for granted. 
What would you like people to take away from your music?
In a world where there is so much stress, angst and hostility; art is the only outlet that is keeping us sane. We hope our music brings attention to the growing hostility and we want to create music that inspires people to build a world without hate.
What's happening now with the band? Any future plans?
We have been working on a single for the past few weeks which we hope to release with a video very soon! We will also be on a tour of Delhi and Bombay on the first 2 weekends of August. Details are on our Instagram page. Also, we play a full band set on the 31st at Namma fit on millers road for Openjamm.
Connect with them and listen to more of their music on Instagram!