"The world is not made of atoms. It is made of stories" – Muriel Ruykeser 
That is exactly what Lungshai wants to express through her pretty illustrations – the flair to be able to convey emotions, moods, ideas and narrative in all.
Lungshai Leisan, 26, is currently pursuing Visual Communication from the College of Art, Delhi. Hailing from Ukhrul, Manipur, she freelances as an artist in her free time. She holds a degree in Multimedia Animation.
Northeastern Natives | Doodle Illustrations by Lungshai Leisan.
Hi Lungshai! We found your illustrations pretty amazing. Tell us something about it. How did you get started?
My illustrations are founded on life and everything that surrounds me. Drawing has always been a delight for me since childhood. I remember how I used to draw everything and anything in my notebooks and textbooks in school. I never knew I could take up drawing as a profession until that summer back when I was in high school. I was intrigued and fascinated by my younger cousin, Ati's drawings and paintings. I was so inspired seeing her canvas paintings and art neatly hung up in their drawing room! That's when I started taking my drawings seriously and further honed my skills in sketching and painting.
And what are your sources of inspiration? What is the theme behind your doodle art?
I feel alive when I draw. It is like going into a world of another dimension. I make simple and silly doodle illustrations but I always want some meaning behind those simple drawings. I love how these simple things can mean so much and exude emotions. The whole concept of human beings captivates me. There are billions of people on earth- everyone is so different yet so similar.
There is nobody like me/you in the entire universe and nobody can be like me/you. This concept of how each one of our own personalities defines who we really are, fascinates me. I want to understand how each human is like. This is how I incorporate personalities in my art. Mostly, I use my personality in my art because I know and understand my own self the most. I love drawing a black cat as my alter ego.
What do you want to achieve through your art?
I want to be an animator and a storyteller. I want to make a story book and tell stories through my art.
How do you share your art? Are they up for sale?
Yes I do sell them. I do small commission works when I have the time. I have also put up my work for some exhibitions. I generally share my art on social media. You can also check out my work on Behance.
Looks straight out of a story book! Studio Ghibli inspired illustration done by Lungshai.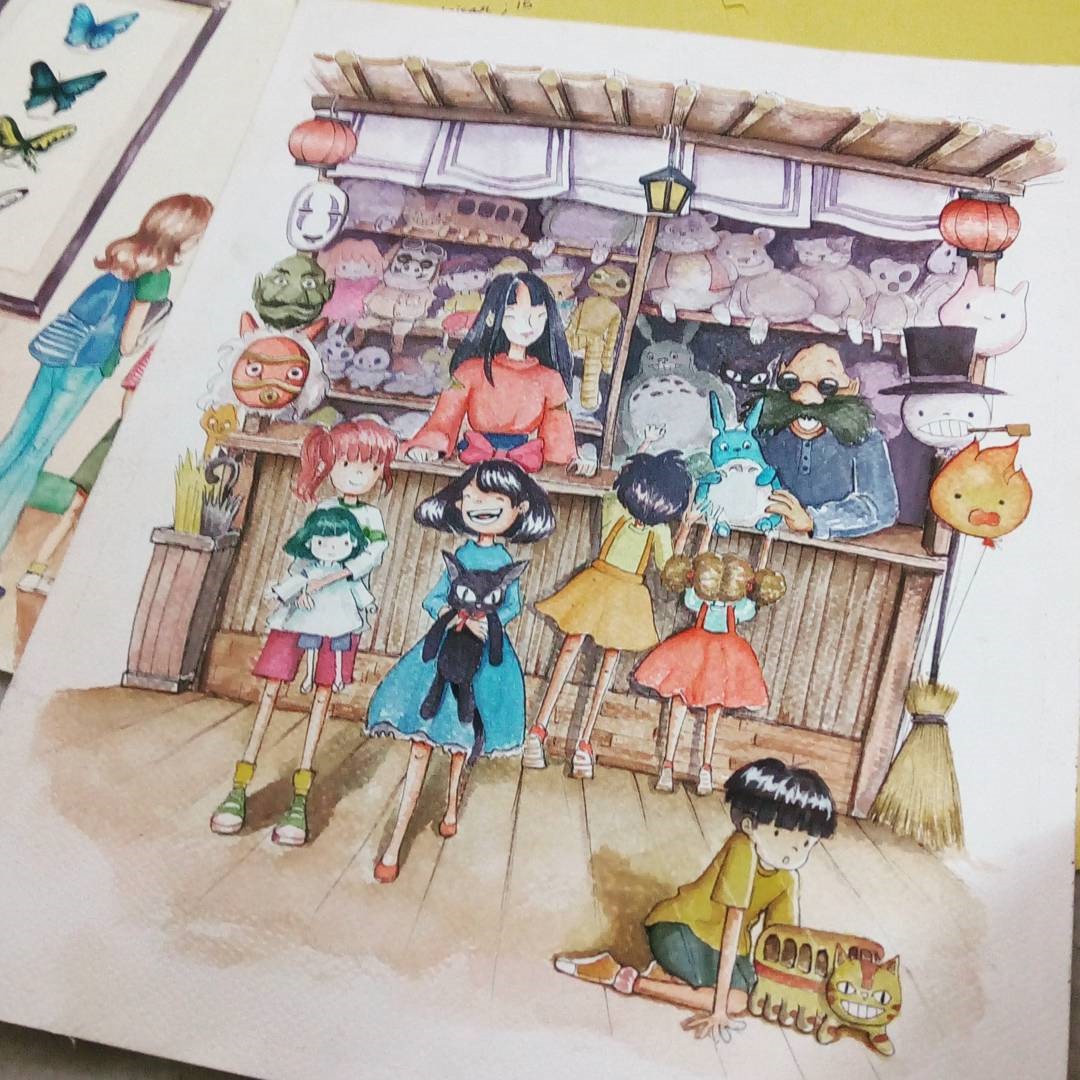 Follow Lungshai's fun-packed doodle-o-drama on

Instagram

!
Latest posts by Pooja Ghose
(see all)