Today, we are sharing a special recipe made with one of our favorite ingredients  – the akhuni. It is basically fermented soybeans with a unique flavor. First timers be warned – the smell can be pretty intense when you are tasting it for the first time. But once you get used to the taste, it can also be pretty addictive. So there – another warning 🙂
Fresh akhuni – prepared by wrapping boiled soyabeans (after draining out the excess water) inside banana leaves and kept over the fireplace and left to ferment for 3-7 days.
Nagas use the akhuni in a variety of dishes ranging from chutney and pickles, to various popular dishes like smoked pork with akhuni, nula (snails) with akhuni and a host of stew dishes.
Let's get started with the chutney!
Ingredients:
5-6 fresh green chillies
1 big tomato
1 " fresh ginger
A tablespoon of akhuni paste
How to Prepare:
Chillies: Roast them over the fireplace /stove. Do not forget to punch holes before roasting them
Tomatoes: Roast the tomato by the fireplace or simply roast them on a flat tawa/grill over the stove. Keep turning to make sure it is cooked well from the inside as well. Once done, peel the tomato and keep it aside.
Cut the ginger into flat slices so that it can be mashed easily
Use a mortar and pestle to mash all the ingredients to a fine paste. Here, we have used an aluminium Naga chutney bowl.
Note: Start the grinding with the chillies. Put some salt over it and mash them. Then add the tomatoes and the ginger. Add the akhuni paste in the end and mash & blend it well with the rest of the ingredients.
Tasty akhuni chutney is ready!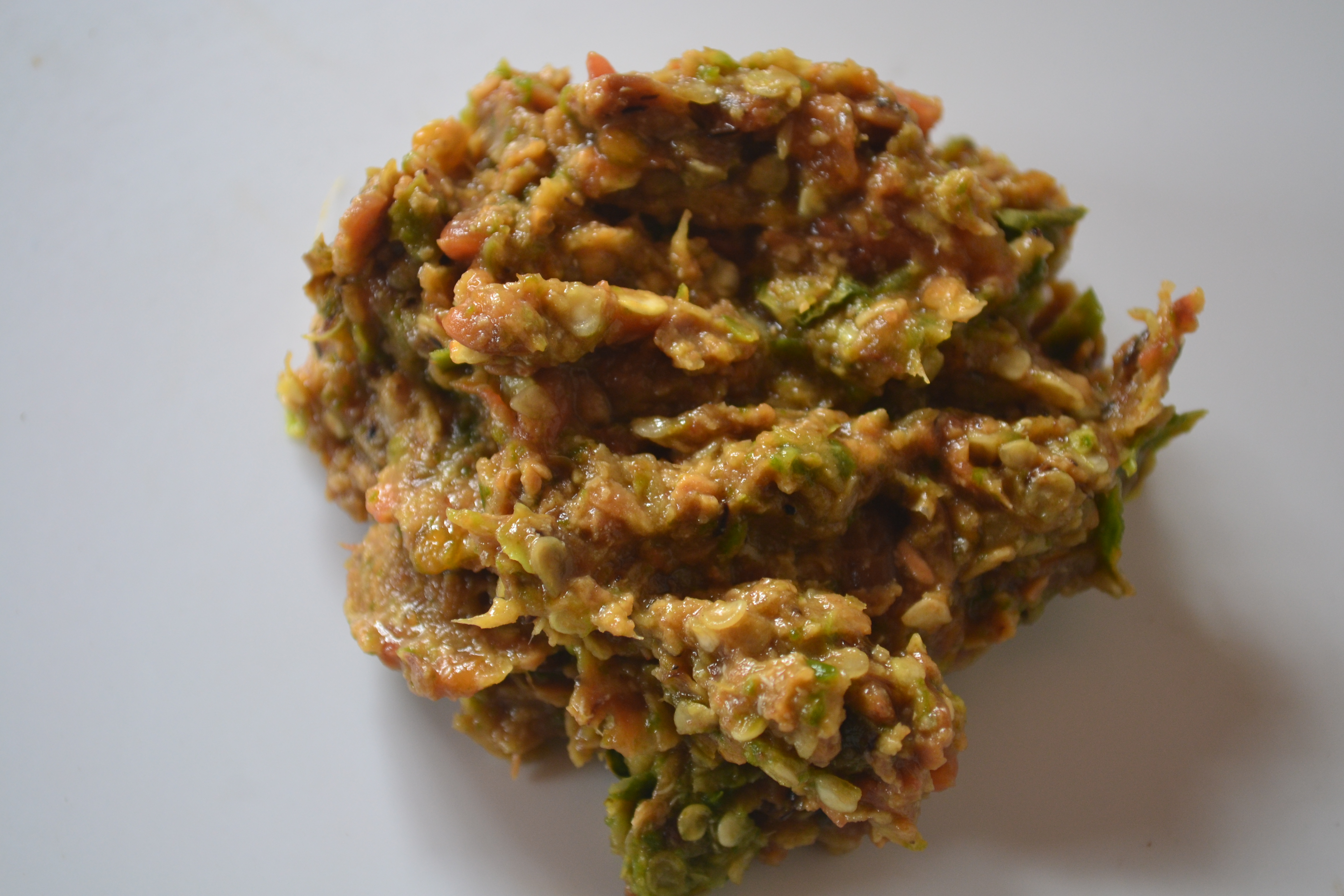 Serve with any Naga meal – comprising of steamed/boiled rice, meat dish and boiled vegetables.
Latest posts by Roots & Leisure (see all)