A question to the millennial folks out here. Had this pandemic happened during our school days, what do you think you would be missing the most? Friends.. boybands chatter, gossip.. or perhaps our much anticipated tiffin time the most?

Remember how we all had our own – or rather, our mom's /dad's version of 'aloo fry' packed neatly with rice? From mashed to dry fry to mixed curry, our relationship with aloo (potatoes) was a special one. In fact, our tiffins depended on it! The best part is, our love for 'aloo fry' has only grown over the years with many of us relying on this robust ingredient to liven up any dull meal.
So we did a bit of searching on social media and found some friends from our community who were super happy to share the recipe of their signature aloo fry. Scroll through the recipe, take notes (maybe spin in your own ingredients), and may you find this familiar comfort in every meal 🙂
Alu Fry by Inukali K Zhimomi from Dimapur, Nagaland.
Our first recipe is from  Inukali.k.zhimomi from Dimapur, Nagaland who besides being an excellent cook is also an entrepreneur ( Founder and Supervisor of Regalia Entertainment Nagaland). For her recipe, you'll need black pepper, salt, onion, turmeric powder, chilly powder, potatoes, and culantro (long/sawtooth coriander)
Recipe of Alu Fry by Inukali K Zhimomi:
Heat oil in a pan and add the chopped onions.
Add salt, pepper, turmeric powder, chilly powder, and stir fry for 2 mins on low heat.
Now add chopped potatoes and stir well with the other ingredients.
Cover the pan with the lid and leave it to fry for 7 mins.
Stir and leave it for another 7 mins.
Turn off the stove and let it cool for 2 mins.
Garnish with culantro and serve with rice!
Recipe of Alu Fry by Inukali K Zhimomi 
Our next recipe is from Veshmaya who lives in London. For her 'aloo fry' recipe, you'll need potatoes, diced garlic, dried red chilly. cumin seeds, Sichuan peppercorn, turmeric powder, salt, spring onions, and coriander.
Recipe of Alu Fry by Veshmaya:
Cut the potatoes into long strips and finely chop the vegetables and keep aside
Heat oil and fry the diced garlic and dried red chilies
Now add the potatoes and cook on low-medium heat till the potatoes are soft
In a separate pan, dry roast the cumin seeds, dried red chilly and sichuan pepper, and grind them into a powder
Add the spice powder mix into the potatoes (that should be soft and done by now)
Add a pinch of turmeric powder and salt.
Sprinkle some spring onion and coriander to serve.
We hope you try out these versions of 'aloo fry' ..we love pairing them with daal and plain rice. Share your recipes too!
Recipe of Alu Fry by Veshmaya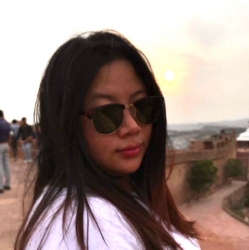 Latest posts by Aloli Achumi
(see all)