In the world of memes and Instagram reels, we found our little solace in Lanu's Instagram page  "the______midget", a page we discovered when someone from twitter shared her work. Not very long after that, we caught hold of her on Instagram and got chatting away but most of all who know her already will agree with us that her work is a dose of happiness and will leave you reminiscing about the bygone days and very 'current mood' instances. So, here we are, join us and get to know Lanu better.  We hope you enjoy scrolling through her work as much as we did.
Meet Lanu Tsüdir, 28-year-old doodle artist from Kohima, Nagaland. With a Masters's degree in English Literature from the University of Delhi, and taking a break at home in Nagaland, she is making her presence known during this quarantine through her webcomic 'The Midget' filled with unique local humor. We had a chat with her to know more about this awesome artist!
Doodle artist Lanu Tsüdir from Nagaland
Hello Lanu, please introduce yourself to our readers. Give us a background of your comic strip 'the Midget'
Hi I am Lanu Tsudir and I am extremely short (haha). I currently live in Kohima. I have a doodle page called "the midget." After I hit puberty, when everyone around me grew taller, my body decided that 4 foot 8 inches is perfect and refused to grow further, so I am stuck with this vertical altitude forever :D. Over the years, my friends and family jokingly and lovingly started referring to me as the midget, which is how "The Midget" came about.
Interesting! Thanks for sharing. But were you always into doodling? How did you get started?
I doodled a lot when I was in university, as I am a huge fan of short comic strips – and Cyanide and Happiness being one of them. I love this comic series so much because the comics are simple but the creators are awfully witty and hilarious. I still regret not getting to meet one of the creators of Cyanide and Happiness Rob DenBleyker in Delhi Comic-Con because of my exams. My doodles at that time were really just leisure doodling, without any professional class (it still is now.). I never thought of taking it seriously as I thought my art would not cut it amongst a sea of exceptionally talented people.
"I left my full-time job in the latter half of 2019 to give my family and myself some time. Since I had time on my side, I slowly started getting back to my hobby and started doodling. My siblings really encouraged me to start doing this. I was not confident as I could not draw at all – all I could manage were stick figures. But, taking inspiration from Cyanide and Happiness, I started with confidence that if my content is good and relatable, the 'art' part will slowly fall into place. That's my journey so far with the midget."
"Is he even your dad if he doesn't do this?" Who can relate? 😀
How has your roots/upbringing influenced your work or working style?
My roots and upbringing definitely have a huge influence on my work because a lot of my content is about my experiences growing up in a Naga household with many siblings, and the context of my comics are a lot of times more local than you know, national, or regional (if that makes sense?).
"Sometimes my mainland friends message me asking me to explain the context of my comics because they could not relate or understand the Naga context of it. So, in that manner, my roots and upbringing do have a huge influence on my work."
What's your creative/work philosophy besides being inspired by Cyanide and Happiness? 
There is no creative work philosophy as such for me. Ideas/inspiration for my comics I derive from daily incidents, observations, musings, and just stupid and random thoughts that cross my mind. The funny thing is that ideas zoom past my mind in the unlikeliest of times – sometimes it's when I am about to fall asleep,  right after I wake up, or sometimes it's when I am in the loo (haha) and if I do not note it down somewhere when it strikes, it's highly unlikely that I will be making a comic out of it because once it goes away, it's gone.
What do you hope people take away from your Art? 
Growing up short played a huge role in me being conscious of my appearance, which resulted in me becoming 'unconfident' 😀 But as I grew older, I realized that I had more important things that needed my attention than being worried about what people think of my height.
"Humour also played an enormous role in me overcoming my insecurities because my friends and family got no chill and would roast me left and right haha." ~ Lanu, Creator of 'The Midget'
" I want people to read and enjoy my comics/humor/art – whatever is relatable to them, and be reminded that it is the little joys in life that matter the most. My message being, your strive for perfection should not come in your way of happiness – as it is, perfection doesn't exist in a perfect world 🙂 That said, I want to encourage my readers to create their own happiness and spread the joy.. I hope to make at least one person happy with each comic I doodle."
Tell us about your latest project.
I love handmade cards and handwritten letters, so I have decided to work on midget cards and they will be up on my page for sale soon, I don't know how these cards will do but I hope that people will respond positively to my new venture. It's the first time I'm sharing this publicly and I hope everyone who reads this looks forward to it. I am also currently making customized commissioned doodles for people. My commissioned and customized doodles are more of an essence than aesthetics because I cannot draw like other artists. Right now my clients are just close friends and family but hopefully, I will be able to open and cater more to a bigger crowd too.
We wish Lanu the best of luck for her new ventures and hope she keeps on brightening all our days with her doodles. Now, do yourself a favor and follow her on Instagram.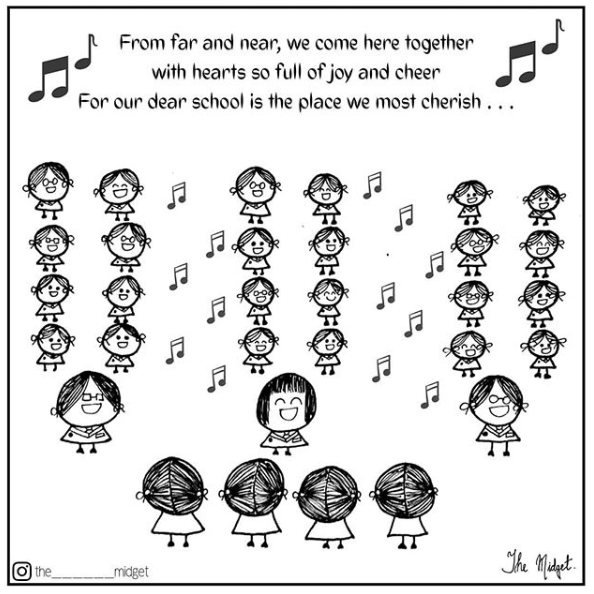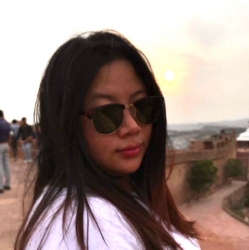 Latest posts by Aloli Achumi
(see all)