"It's so fascinating how Photography can take you to a whole new world of its own.The amount of new things I learn from every shot I take, is truly exciting."

We chat with Qhevika Swu – a photographer from Nagaland, who has a growing fan base of people enamored by his artistic depiction of people and things around him. His portfolio shoots are even more eloquent. He brilliantly mixes somber and contemporary style of shooting, which he is now translating into cinematography as well.
We chat with 25-year-old Qhevika Swu – the super talented, and much-admired photographer + cinematographer from Nagaland, as he takes us along his creative process and his portfolio.
Hello Qhevika, so nice to finally get to chat with you. Please tell us more about yourself.
Hi! I'm Qhevika Swu, I recently turned 25. I am a photographer based in Kohima but I'm originally from Mishilimi, Pughoboto Tehsil of Zunheboto district in Nagaland. I am currently exploring the world of photography and cinematography. I am a full-time freelance photographer climbing the ladder.
What initially sparked your interest in photography
A change in scenery I suppose. I believe it birthed a whole new perspective and changed the way I observed things around me. I started seeing the world through a lens that was intriguing in every sense. It's still a wonder, the latitude of discernment I gain just by a simple act of looking through the lens of my camera . . .
What's your creative/work philosophy – where do you take inspiration from?
I believe that we are all gifted by God and that it is our responsibility to put an edge to whatever has been given to us. In the end, it is those who are faithful and diligent that get to relish the fruits of their labor.
"I am also blessed to be surrounded by a very creative group of people whom I have the honor of calling my friends. They inspire me every day and keep me up to date on various matters and contents."
"This is my favorite cause I have my favorite humans in it" ~ Photograph by Qhevika Swu
What do you hope people take away from your photographs?
I want people to see the beauty in the mundane. Things that are often overlooked. Things that we might be taking for granted. Beauty is more than just a definition it can be a warm reassuring smile from a stranger across the street. It is these fleeting moments that are truly precious.
Who/what gets you particularly excited about pursuing photography?
Photography takes me to a whole world of its own .. it is so fascinating.The amount of new things I learn from every shot I take, is truly exciting.
Your most memorable photoshoot?
I can say with utmost certainty that this particular shot of a couple brought me profound joy if not enlightenment. It holds a special place in my heart just because of how veracious that moment was for me.
What are some recent or upcoming projects that you have been working on?
I recently started a Youtube channel with a friend of mine. The channel explores the art of photography and cinematography and our contents range from short fashion films to short films. The idea is to create a community that's designed to share and to be shared.
If you want to keep a tab on this talented photographer, follow him on Instagram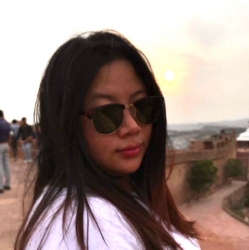 Latest posts by Aloli Achumi
(see all)